10 Things That Prove Charli XCX Is Your Insanely Cool Older Sister
27 April 2015, 14:59 | Updated: 8 May 2017, 17:09
Older sis vibes all day every day
Ever since Charli XCX came on the scene, she's made no secret of the fact that she is not interested in being role model. Even though she has shunned the label of squeaky clean pop star, she's still making some killer tunes and inspiring us nonetheless.
She is edgy, stylish, and has got a few ideas about what genre of music she is a part of.
My whole genre is b***h-pop. Being a b***h is the best.

Charli XCX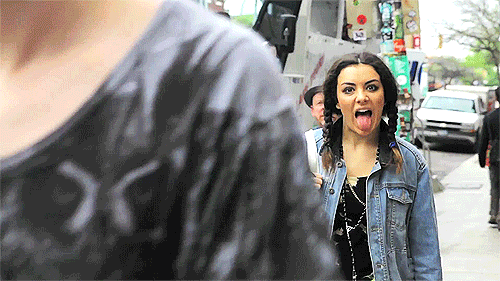 Nice.
1. She knows how to wear a uniform…the cool way
2. She totally knows that fame is overrated
3. She has all the coolest friends.
DROPPED IT WITH THESE GUYS @TINASHE @TYDOLLASIGN pic.twitter.com/HAIcrZRj2Q

— CHARLI XCX (@charli_xcx) April 13, 2015
4. She probably wore a tux to prom and slayed it.
5. She made the cover of your favourite magazine.
6. Her goals are modest.
7. And she is all about kickass girl power.
I just believe that girls should be able to do what the fuck they want and shouldn't feel the need to dress conventionally and sexy in mens' eyes. Maybe that's what the second wave of feminism is, I don't know, I just know what my own beliefs are.

Charli XCX
8. Can we talk about her hair?
9. And the fact that she is a pizza princess.
omg i'm in italy

— CHARLI XCX (@charli_xcx) February 21, 2015
10. But most importantly, she'll never let you forget the 90s (thank God!)
Want the latest music news and internet gold delivered straight to your inbox? Sign up to our newsletter by hitting the link at the top of the page