11 Times Ru Paul's Drag Race Perfectly Summed Up The Human Condition
24 August 2015, 14:54 | Updated: 18 January 2018, 13:50
Sashay away....
If you've never seen RuPaul's Drag Race, I'll tell you now: you're not living your best life. The fact that you haven't seen a RuPaul contestant sashay away or lip-synch for their lives speaks volumes of the terrifying ease with which we as humans can often miss the best parts of 21st century living.
RuPaul's Drag Race isn't just wigs and overdrawn eyebrows, sometimes it can truly speak to the human condition.
1) Like when you overhear an argument and you don't want to get involved but you will offer commentary.

2) Or when you're alone at home, you get out of the shower and your favourite song is playing.

3) Sometimes you're forced to apologise to someone but you're not even sure you did anything wrong.

4) And we all have those days when we're feeling like the Willam of the squad (aka low-key evil).

5) Sometimes it feels like RuPaul is talking to you directly.



6) Then there are times that Sharon Needles speaks to your inner sociopath.
I'm working with a DILK: A Dad I'd Like to Kill.

Sharon Needles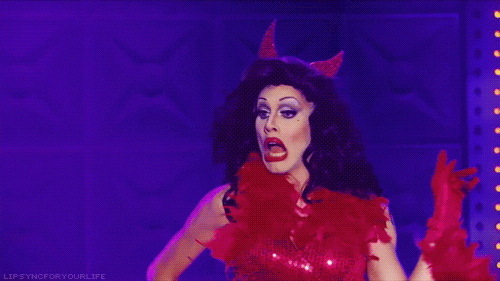 7) Occasionally, everything just feels like you're lip-syncing for your life...(i.e. getting up in the morning)


8) Especially when you're trying to figure out how to pay your bills and feed yourself.


9) Sometimes your glamour toad persona desperately wants to escape (especially on a night out).


10) And other times it's pretty obvious that you high key stole your Sunday brunch aesthetic from the show.



11) But, at the end of the day, when it comes to finding someone as fierce as you, it's next to impossible.