Watch This 11 Year-Old Girl Dance To Taylor Swift Better Than Anyone You Know
2 December 2014, 10:40 | Updated: 8 May 2017, 17:09
If you thought the routine you'd put together for Taylor Swift's 'Shake It Off' was right on the money, sorry; but you're about to be put to shame by a little girl. Again.
Dancer and choreographer Matt Steffanina has put together a routine for Tay's 'Shake It Off (Remix)', and much like a lot of his other videos, has a pint-sized partner in crime to help him show it off - the AMAZINGLY talented Taylor Hatala, who is just 11 years old.
At first it starts off unsuspectingly silly and cute.
But the the duo GO HARD.
I mean HONESTLY.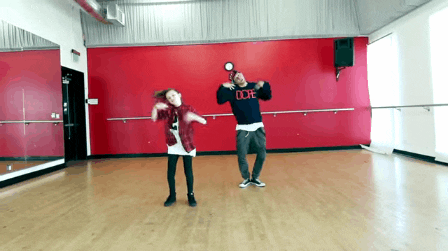 The routine is pretty short, but hey - this is an 11 YEAR-OLD GIRL completely keeping up with the moves of a guy who freakin' DANCED WITH THE REAL TAYLOR SWIFT at this year's AMAs. Seriously, he has that on his resumé.
They could probably give Tay a run for her money.
Check it out below.