PopBuzz's Top 15 Tracks Of The Year So Far
7 July 2015, 14:59 | Updated: 13 December 2018, 12:42
Featuring Carly Rae Jepsen, Florence + The Machine, Taylor Swift, Drake and more, here's a list of amazing songs!
It's officially the halfway point in 2015 and we're not quite sure where the year has gone.
What we do know is that 2015 has been an incredible year for new music. Whether it's come from old favourites or rising stars, there's been so much to get stuck into that it's been hard to give everything a listen.
What with us officially being half-a-year down, we got our writers, in no particular order, to pick their five favourite songs of the year so far.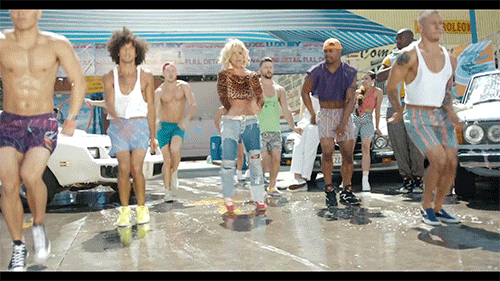 "Sparks" - Hilary Duff
After her initially lacklustre comeback last year, Hilary Duff went back to the drawing board, heading to Sweden in the process.
The result is her first studio album in eight years Breathe In, Breathe Out, a collection of polished shiny pop and its lead single "Sparks".
Since I first heard it, the "Sparks" has been on a constant rotation. I've even played it back-to-back I love it that much. From its popping synths to its breathy vocals, the song is a total bop that has certainly satisfied our craving for a sugary hit. (AK)
"Lean On" - Major Lazer & DJ Snake ft. MØ
Lean On is an absolute belter. It's just what people needed to really transition from spring to summer. I love this tune because it's so unlike anything that's charting right now. Unfortunately things tend to sound really same-y this time of year (what with everyone competing to have that summer hit), but "Lean On" really hits hard in a unique way. (NI)
"Bad Blood" - Taylor Swift ft. Kendrick Lamar
Kendrick's at the top of his game right now, and his spin on Taylor's already kickass pop track helped turn it into an instantly iconic battle anthem. And THAT VIDEO. (LD)
"I Really Like You" - Carly Rae Jepsen
Carly Rae Jepsen knows her way around a hook. Her 2012 megahit "Call Me Maybe" became a viral sensation and spawned one of the most underrated pop albums of the last few years, Kiss.
Obviously following up such a supersmash was going to be tricky, but "I Really Like You" certainly delivers. Its 80s synths, large drums and oh-so-cutesy lyrics are the perfect antidote to the moody blues, swiping away any negative thought or misanthropic tendency with a swish of its soaring chorus.
I defy anyone to not be humming after just one listen. (AK)
"You & The Six" - Drake
This list would be nothing without an entry from Drake. If You're Reading This It's Too Late has been one of the best releases of the year, hands down. "You & The Six" is a sort of open letter to Drake's mum and something about it feels very poignant and real.
Like, how many rappers do you know of that would write in-depth raps about their conversations with their mothers? I feel you Drizzy. (NI)
"Uma Thurman" - Fall Out Boy
With more of a focus on electro and sampling, this track was a whole new world for FOB. But as one of the most addictive songs on American Beauty/American Psycho, it completely paid off. (LD)
"Baby Love" - Petite Meller
No song this year is more joyous than Petite Meller's "Baby Love". Whether you're captivated by the euphoric pianos, enthralled by the African drumming or taken in by Meller's distinctive airy vocal, the song is a bouncy 3:42 that begs for repeated listens.
Not only that, but the accompanying video sees Meller hanging out with giraffes and dancing with a load of kids. It's just everything you want from a video.
What a song. (AK)
"All Day" (Live Version) - Kanye West


The first time I heard this track it was like a lightbulb switched on. Coming off Yeezus I think Kanye West was kind of confused about where he wanted to go with his new record and what kind of themes he wanted to explore. Thematically, I think this track really resonates as a comment piece on consumerism and race and, in that regard, it picks up right where Yeezus left off. Plus, it just goes so hard. (NI)
"FourFiveSeconds" - Rihanna, Kanye West & Paul McCartney
After tons of hype surrounding this collab earlier in the year, there was soon NO escape from it. It played EVERYWHERE all the time. Luckily, it's a jam. (LD)
"Here" - Alessia Cara
Featuring a sample from Isaac Hayes' "Ike's Rap", Alessia Cara's debut single "Here" is a masterpiece from start to finish.
At only 18, Cara's astute lyrics follow that teen self-awareness showcased by Lorde. However, unlike Lorde, Cara doesn't speak in metaphors, instead choosing to sing out in a stream-of-consciousness. The Def Jam signee captures an almost photographic scene as she laments the state of a house party, rebuking it all for more introverted past times.
There's serious artistry here (mind the pun) and, as this is just her debut, I'm keeping a watchful eye on Alessia Cara. (AK)
"Loud Places" - Jamie XX ft. Romy
This one is for the balmy, late afternoon parties that stretch well into the evening. While the song has structure, there's just enough flavour to make you really want to dance.
It reminds me of the first time I heard The XX and that feeling I had of wanting to tell everyone about your new discovery. It's just a brilliant song. (NI)
"Energy" - Drake
If You're Reading This It's Too Late had a lot of amazing tracks, but for me "Energy" is the standout. Drake is at his best when he's calling out anyone holding back his career, and "Energy" is a full-on unapologetic shutdown. (LD)
"Tom's Diner" - Giorgio Moroder ft. Britney Spears
Britney Spears covering Suzanne Vega's "Tom's Diner" for a new Giorgio Moroder album is a sentence I thought I'd NEVER utter. Yet, it's 2015 and, like the spread of equal marriage around the world, magical things are happening.
Like Vega's original, Spears is detached and almost otherworldly in her vocal delivery, which has been heavily vocoded (at her request, according to Moroder). Around her pulsing synths, pronounced guitars and pounding drums courtesy of Moroder turn the 80s classic into a modern club track.
What's so magical about the cover is Britney. While she may sound unemotional and robotic there's a certain spark in her voice that perfectly captures the melancholy the song so desperately needs. Not only that, but there's a flash of life that has been so sorely missing from her last few offerings ("Pretty Girls" aside). If this doesn't receive the single treatment I'll be having strong words. (AK)
"Good For You" - Selena Gomez ft. A$AP Rocky


Selena Gomez's "Good For You" is a late entry, but you can sort of tell that she is working hard at crafting a new image and sound.
Now that Selena is all grown she's gone for that sultry lite-R&B vibe that works so well for artists in that transitional stage and it's sexy as hell. If her new record sounds like this, I'm definitely looking forward to it. (NI)
"Ship To Wreck" - Florence + The Machine
The best single from How Big, How Blue, How Beautiful imo! Florence manages to channel a very personal internal struggle into something that is not only relatable, but also empowering for many people. Just brilliant. (LD)