A Month-By-Month Breakdown Of 2014's Biggest Tumblr Memes
3 December 2014, 15:24 | Updated: 8 May 2017, 17:09
2014 has been an insane year for internet jokes. And that's saying something.
As we approach the end of 2014, it's a good time to reflect on the past year: the things we've achieved, the friends we've made, the memes we've laughed at.
Yep, admit it. It's okay, we're right there with you. There's been at least one running gag every month on sites like Reddit or Tumblr that cracks you up every time you think of it.
So we've put together a monthly rundown of our favourite memes from this year. So get your best selfie pose at the ready, grab your trumpet, sit under an ice bucket and and STRAP IN.
January: Selfie Olympics
2014 has truly been the year that the world finally embraced the selfie, and a lot of this might have to do with the way it started.
The entire internet was abuzz in January with people trying to 1-up each other for the most ridiculous - and sometimes death-defying - selfie.
But this guy definitely won by sneaking a literal Olympic Selfie.
[KYM]
February: Flappy Bird
Otherwise known as the ruiner of people's lives, the simple tap-to-flap mobile game reached maximum popularity in late January. The resulting two weeks was a nightmare for any weak-willed person with a smartphone.
[KYM]
March: No Oscar for Leonardo DeCaprio
Leo failed to take anything home from the 76th Academy Awards in March (for the umpteenth time. Like seriously, give him SOMETHING already).
As a result, Tumblr's saddest in-joke resurfaced in full swing.
[KYM]
April: "It's a metaphor"
The first preview clip for the movie adaptation of 'The Fault In Our Stars' came out this month, and book fans were pleased to find that Augustus Waters' iconically inaccurate word vomit about 'putting the killing thing between your teeth' was still included. And thus, it immediately became a meme.
And of course, the obligatory callback:
[Hypable]
May: HOENN CONFIRMED
After nearly twelve years of waiting and hoping, Nintendo announced in May that Pokémon fans would be returning to the island of Hoenn, as a remake of Pokémon Ruby and Sapphire was being released for the 3DS.
The resulting summer-long hype for Omega Ruby and Alpha Sapphire was at its most intense that first month. TRUMPETS EVERYWHERE.
(The games came out this weekend and we haven't heard from the Pokémon fandom since).
[KYM]
June: Luigi Death Stare
'Mario Kart 8' was released in the summer, and the best feature of the game's latest incarnation was a combination of the Highlight Reel, the Slo-Mo replay, and the Luigi Death Stare.
Every time the famous Green Mario passes another racer, he glares at them with the cold, unapologetic fury that only comes from a lifetime of being Player 2.
Set it to some bad-ass music and it made for some incredible videos.
July: I came out to have a good time and I'm honestly feeling so attacked right now
This one came from a single user's text post, but suddenly people found ways to apply it to EVERYTHING until the humour was run right into the ground.
[KYM]
August: Ice Bucket Challenge
This is one that, during a hot summer, took the entire internet by storm. Internet users, Facebook parents and celebrities alike were all nominating each other to pour buckets of iced water over themselves to raise awareness and money to help combat Amyotrophic lateral sclerosis (ALS).
While it was a sensation that united the whole internet in positive action, that didn't stop it from being parodied and memed to death.
[KYM]
September: Madden GIFerator
To promote their upcoming game 'Madden NFL 15', Electronic Arts launched a GIF maker, where users could create GIFs of footballers with customisable moves, backgrounds, and text. They hoped that football fans would make cool football GIFs to share with their football-loving friends and rivals.
Then the internet found it and that completely did not happen.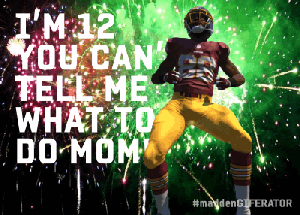 [KYM]
October: The Skeleton War
if your grave doesnt say "rest in peace" on it you are automatically drafted into the skeleton war

— wint (@dril) July 28, 2013
Every year, Tumblr immediately becomes Halloween Central from midnight of October 1st, and anyone who resisted the Spoopy Movement became an enemy in the Skeleton War.
[KYM]
November: When Mama Isn't Home
If you've never done this with your dad then your family has failed.
This video of a father-and-son duet and their trombone-and-oven-door cover of DJ Timmy Trumpet's 'Freaks' came out of nowhere, and is just one of the best things to happen to November and the world.
And when the internet realised you can apply the 'trombone/oven door' dynamic to any power duo, the possibilities (and fanart) were endless.
(that last one was INEVITABLE).
[KYM]
December: ???
We're only a day into the last month of the year, but we can't wait to see what 2014's last big meme will be. Our money's on the crossguard lightsaber from the new Star Wars teaser trailer.
If you have any suggestions for early contenders, Tweet them at us @PopBuzz with the hashtag '#TheLastMeme'. Very grand.