5 Celebrities Who Should Stay Off Social Media Forever
1 July 2015, 12:36 | Updated: 8 May 2017, 17:09
Cringeworthy online behaviour from some of the biggest names in music.
If you're Iggy Azalea's social team right now you are probably losing your mind over the terrific mess she has made of things with Britney Spears. And we know Iggy. When she messes up, she really messes up. But she's not the only one.
Plenty of pop stars are slowly but surely ruining their reputations using social media.
Iggy Azalea
Iggy will feud with anyone--even a pizza restaurant. She is known for speaking her mind on social media and she's not afraid to ruffle a few feathers. Unfortunately for her, she may be sabotaging her career before it ever truly begins. In the music industry, the last thing you want to do is gain a reputation for being difficult to work with but it seems iggy is willing to do just that.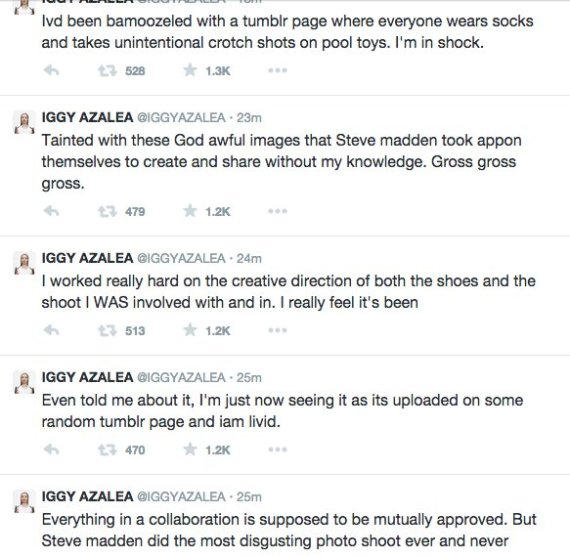 Diplo
Diplo is so badly in need of a social media hiatus. His tweets border on offensive and unnecessary and he is not afraid to get spill some tea on fellow musicians. His most incendiary tweet of all had to be his infamous Taylor Swift tweet and, more recently, the one where he called Zedd's album a "pile of shit". Yikes!
Madonna
Madonna is that auntie on Facebook who has just discovered social media and invites you to play Candy Crush like 10 times a day. She is cute and kind of fun but her social media presence must be stopped at all costs. In the lead up to her Rebel Heart album, Madonna was having a particularly bizarre run of things on social media.
I mean, Madonna's Instagram is just a mess at this point.

Louis Tomlinson
It's no secret that Louis Tomlinson is the resident loud mouth of One Direction. So, it stands to reason that there is no way he remain silent on the ongoing Zayn situation. The latest Zayn drama has reaffirmed the fact that Louis cannot be trusted with his twitter password.
Remember when you were 12 and you used to think those Mac filters for your pictures were cool haha ! Some people still do HA!

— Louis Tomlinson (@Louis_Tomlinson) May 6, 2015
@NaughtyBoyMusic Jesus forgot you were such an in demand producer .... How does it feel to be riding on the back of someone else's career ?

— Louis Tomlinson (@Louis_Tomlinson) May 6, 2015

Chet Haze
Petition to stop Chet Haze 2k15.
HEY MEDIA STOP CALLING ME CHET HAZE YA BITCH I DOMT GO BY THAT NO MORE ITS CHET HANX BITCH AIGHT COOL THANKS

— Chester M. Hanks (@CHETHAZE) June 10, 2015
I AM A WALKING PR DISASTER AND I COULD LITERALLY GIVE A FUCK LESS!!!!!! OH WAIT I MEANT I LITERALY DONT GIVE A SINGLE FUCK!!!!

— Chester M. Hanks (@CHETHAZE) March 31, 2015