5 Easy Ways To Survive Your First YouTube Convention
10 July 2015, 13:27 | Updated: 8 May 2017, 17:09
Excited to meet your faves and learn more about YouTube? Here's how to get the best out of your weekend.
While most folks get hype about festivals and gigs around this time of year, to a lot of internet-dwelling folks the summer is defined by one thing: YouTube events.
Conventions like these are a chance to see your YouTube faves in person, meet the internet pals you've made IRL, and learn more about the community and industry that surrounds the world of online video. And whether you're going to VidCon in California, or London's Summer In The City, or even the mysterious Amity Fest happening some time this year, you might want to be prepared if you're attending a YouTube con for the first time. Not to worry, we've got five simple pieces of advice to help you have the best event ever!
1) Use the schedules/apps
Whether it's panels, stage performances, or even meetups, there is always a LOT of awesome stuff happening at these events that you might not even know about - unless you actually look at an official schedule.
Most events have these readily available at least a couple of weeks in advance, so make sure to plan out your day ahead of time. Some events even have apps that will let you add things that are happening to your own personal schedule, to make sure you get the most out of your weekend.
2) Keep your phone charged!
This whole event is about YouTube and the internet. You're gonna be filming, live-tweeting, checking the event app, Instagramming your selfie with Tyler Oakley... generally, doing a bunch of stuff with your phone.
You'll be surprised at how quickly your phone battery drains, so make sure it's fully charged before you head out for the day. The event might have charging stations or power outlets; but just in case it doesn't (and you don't want to be stuck in one place while you recharge) then it'd definitely worth buying a portable battery pack. Decent ones can be found quite cheaply, but are definitely worth the investment. If you have one, make sure it's ALWAYS packed.
And on that note...
3) Pack ALL these things.
Be sure to take a small bag with you during the convention, because there's a whole bunch of things you're going to need over the course of the day.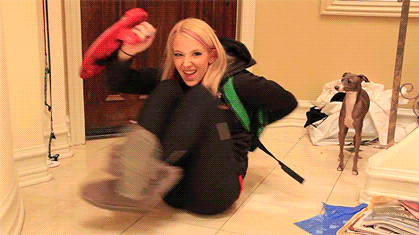 Consider this your official checklist!
Water: It's going to be a hot day and you'll be spending a lot of time on your feet. Stay hydrated and keep your bottle full!
Snacks: Finding time to eat actual meals is important, but to keep your energy up over the day, make sure you're carrying some fruit or nuts or sugary sweets.
Pens/Sharpies: YouTubers are gonna be milling around and if you want something signed, make sure you have a pen handy; they might not! It's also worth carrying a notebook or something else that you might want signed.
Charger and phone cable: See Advice Part (2)
Cash Money: You might see some merch you want, or need to get lunch from a food truck; whatever the reason, having cash will make your life a lot simpler.
Camera: If you want to save phone battery/take nicer pictures, make sure you bring your camera along. Also a battery and SD card!
4) Lower your expectations for meet-and-greets.
It's a YouTube event. That means there will be YouTubers. Could this finally be the day that you meet your idol and you instantly become best friends?
We've got some bad news. All of these people and more have the exact same idea:
(Literally, this gif is from last year's VidCon)
As YouTube events have grown, meet-and-greets have become a necessary evil for fans to meet their favourite YouTubers without causing a safety risk. YouTubers will have to spend a few hours standing, signing, and smiling for pictures with people, for maybe less than a minute per person. It gets exhausting.
Sadly, they can't do this for the entire weekend or they'd collapse; and this means that usually only a few hundred of maybe thousands of people who want to meet them will actually get to.
Most events have a ticketed meetup system in place this year; which means that you'll know in advance, and won't have to wait in line for hours only to be disappointed when the line is cut. But regardless, people still think that just because they're a big enough fan, they're entitled to meet this person. Sadly, it doesn't work like that; everybody waiting there feels the same way.
So please consider this genuine, honest advice: If literally the only reason you are spending large amounts of money on a big weekend-long event is to stand in line all day to meet one or two famous people, when there is so much more to the event, you might want to reconsider going.
And on that note:
5) DO EVERYTHING!!
Conventions of any sort are designed to give you a jam-packed weekend of different things to do. There will always be multiple chances to engage with and enjoy your favourite creators doing their thing; whether it's watching them on stage, going to a panel they're speaking on, or even (if you're lucky) meeting them face-to-face.
But it's not all about the big YouTubers; these events are for making new friends and earning about video-making and celebrating YouTube as a whole, and they would be nothing without the thousands of fans who also attend. So there's a lot that has been organised for you to take part in!
This goes back to using the schedule to plan your day, but if you're a little overwhelmed in where to start, we want to set five challenges for you:
Meet at least 1 new person who likes the same channels as you.
Find at least 10 new YouTubers to watch.
Go to at least 2 panels.
Visit at least 5 booths in the Expo hall.
Watch at least 5 things on the mainstage
If you can manage all of those things, then congrats! You've just had the best weekend ever. Hopefully.