5SOS' Michael Opened Up About Seeing A Therapist And It's A Really Big Deal
21 August 2015, 14:27 | Updated: 8 May 2017, 17:09
Find out how Michael Clifford opened up about his mental health and the way it's gotten every 5SOS fan talking.
When it comes to 5 Seconds Of Summer, we mostly think of the boys as goofy teens who don't take a lot of things seriously. And we're not entirely wrong.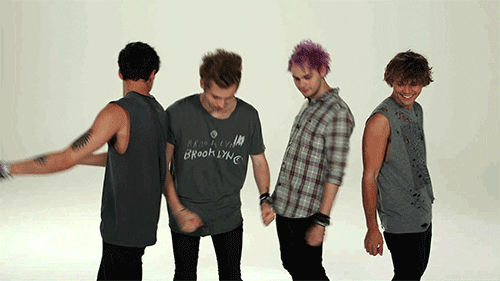 But that doesn't mean that sometimes, they've still been known to get a little deep, or serious. And Michael Clifford's latest admission might be one of the most important serious moments of them all.
During a gig this week, Michael took a quiet moment to open up about his own mental health issues for the first time. While he was brief, and understandably didn't go into specifics, it was a really important moment for fans everywhere.
Michael says in this video that hes been seeing a therapist for his mental health issues. We love you! Always here! pic.twitter.com/IPgeq4AtFI

— jess loves 5sos (@jetaimemgc) August 20, 2015
"I was fixing some problems with my mental health," admits Michael. "I just saw a therapist real quick on the break we had."
"Anyways, I'm going to shut up now. We're gonna play another song it it's OK?"
Since the video reached the greater internet, 5SOS fans everywhere have been reacting with love and support, managing to get #WeLoveYouMichael trending:
Michael spoke up at last nights show talking about how he's handling his mental health by seeing a therapist. I'm so proud of him.

— 5SOS Updates (@5SOS_Updates) August 20, 2015
It takes a lot of courage to share this with us, and far out I love him so much #WeLoveYouMichael pic.twitter.com/J9q82Et1Vd

— 5SOS Updates (@5SOS_Updates) August 20, 2015
He works so hard and deserves all the love in the world #WeLoveYouMichael pic.twitter.com/fnO4M9b3yd

— Michael is my hero (@AlexLetteri) August 21, 2015
But more importantly than anything, Michael opening up about his own mental health is inspiring discussion amongst the 5SOS fandom about the stigma surrounding issues like depression and anxiety, and how talking about it is far better than keeping quiet.
michael seeing a therapist over the break for his mental health goes to show that even the people who look the happiest sometimes need help

— kaitlyn (@mukesxbox) August 20, 2015
Michael helped me cope with my anxiety and depression now it's our turn #weloveyoumichael

— Leslie|PLZ Michael (@MichaelsVodkaa) August 20, 2015
most people can't tell their friends and family about mental health problems and then we have michael telling a whole arena. I love him.

— monique (@illogicth) August 20, 2015
You guys michael publicly saying he's seeing a therapist makes us so happy bc it gives others the courage to do the same! #ShesKindaHotVMA

— 5SOS PHILIPPINES (@5SOSPHOfficial) August 20, 2015
In response to #WeLoveYouMichael, Michael talked about the onstage moment in an interview earlier today on Good Morning America, admitting that his therapy was just "a thing that happened, and it's all good now".
Michael talking about his therapy and #WeLoveYouMichael #5SOSonGMA #ShesKindaHotVMA pic.twitter.com/jhy9g9tF8o (@4aussieupdate) -c

— 5SOS UPDATES (@5SOSs_Updates) August 21, 2015
Regardless, here's hoping Michael's honesty can help a lot of other people!