15 times Little Mix proved girl power is alive and well
21 November 2018, 11:23 | Updated: 30 November 2018, 12:31
Promoted by Apple Music
Little Mix have been empowering women since they were first formed...
It's no secret that Little Mix eat, breathe and sleep girl power. Ever since they won the X Factor back in 2011, they've always made an effort to incorporate feminism into their music and their actions. From empowering anthems like 'Wings' (bop) and 'Move' (an ultimate bop), few popstars today actually spread the message of girl power quite as well as Little Mix.
It's not just that though. The girls literally share an unbreakable bond. Even though Kelly Rowland and Tulisa (icons) put them together as complete strangers on the X Factor, Jesy, Jade, Leigh-Anne and Perrie somehow all immediately clicked and since then they've demonstrated how much power there is in female friendships. They are four normal women running pop together.
Taking all of this into consideration, it's no surprise that Little Mix have had plenty of major feminist moments. With that in mind, we've gathered together just a few of times Little Mix proved that girl power is alive and well.
1. When Jesy wore her iconic 'Too provocative?' dress to an awards show.
Are you ready @BBCR1 #R1TeenAwards xjesyx pic.twitter.com/r5rcrYtk4S

— Little Mix (@LittleMix) October 23, 2016
Anyone who follows Little Mix will know that they are consistently and unfairly criticised for wearing "provocative" clothing (a lot of performers wear leotards - it's not a big deal). For some reason people think there's something wrong with a girl group dressing in clothes they like and feel comfortable in, even though no one bats an eyelid at shirtless men.
Naturally, Little Mix don't have any time for these double standards and always shut them down in interviews. Perhaps best of all though, Jesy clapped back at them with this "Too provocative?" dress in 2016. A legendary moment.
2. When they included female names in the debut performance of 'Shout Out to My Ex'.
shoutout to little mix having their female dancers wear shirts with male, female + gender neutral names for their x factor performance :)

— ej (@adoredelanc) October 19, 2016
It goes without saying that Little Mix are amazing LGBTQ+ allies. Jade is an ambassador for Stonewall and the girls dedicate every performance of 'Secret Love Song' to the LGBTQ+ community. The girls may not identify as queer themselves but it's always evident that they want to use their platform to support their queer fans.
For the live debut of 'Shout Out to My Ex', Little Mix made sure to be as inclusive as possible. Their female group of backing dancers all wore shirts with the names of exes on them and some included female and gender neutral names. It's things like this which prove that Little Mix want to empower ALL women.
3. When Leigh-Anne encouraged her young, black female followers to love their hair.
My niece of 7 years once said she didn't like her Afro & wanted to look like the other girls in her class, it broke my heart that she didn't consider what she had as beautiful..Love your curls, love your Afro..we need to teach young black girls that it IS just as beautiful Lx pic.twitter.com/Ss7JKDTePY

— Little Mix (@LittleMix) August 18, 2018
It's common knowledge that the beauty industry favours white women. As such, black women are rarely taught that they are beautiful. When Leigh-Anne learned that her niece didn't like her afro, she took to social media to remind her young, black female followers that their hair is beautiful.
4. When Jade opened up about her insecurities during the early stages of fame.
Jade x pic.twitter.com/0jafBT3QNN

— Little Mix (@LittleMix) September 24, 2018
Part of girl power is being loud and confident but part of it is also being honest about the times that you're not. Jade recently took to Twitter to open up about how she used to want to get a nose job because her nose was photoshopped and her skin was lightened in one of Little Mix's first magazine shoots. Since then she has leaned to love herself and wants her fans to know that they are "beautiful in their own way" too.
5. When they rapped the lyric 'I don't need a man // I put my own rock on my hand'.
#JOANOFARC #LM5 https://t.co/mbXSoKhLxA pic.twitter.com/ta37hX7BSE

— Little Mix (@LittleMix) November 2, 2018
This one speaks for itself. 'Joan of Arc' is literally girl power in song form.
6. When they shutdown invasive questions about each other's ex boyfriends.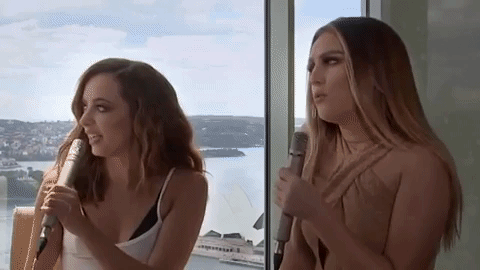 The media can be nosy af but Little Mix never let it slide. They call out their interviewers, protect each other and every now and then steal the questions from the people being so invasive about their private lives.
7. When Perrie encouraged women with freckles to embrace their freckles.
Growing up I was always insecure about the freckles on my face. Over the last couple of years I've started to embrace them and don't feel I need to hide them anymore. "Embrace your individuality. Love what you love without worrying about judgement" P<3 pic.twitter.com/80CFq6ahpO

— Little Mix (@LittleMix) August 14, 2018
So many people have freckles and yet they are very rarely celebrated. In opening up about her own freckle journey, Perrie reminded women that they need not feel ashamed of their's.
8. When Jesy got real about the abuse she was receiving for her weight on X Factor.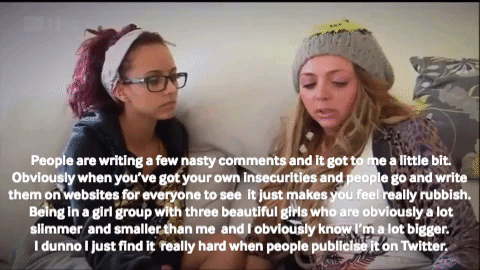 Throughout Little Mix's career trolls have written nasty comments about Jesy's weight. Over time she's learned to embrace her curves and ignore the haters but during Little Mix's X Factor days it wasn't so easy. In discussing her experience, Jesy reminded people how wrong cyber-bullying is and that no-one should be called nasty things because of their weight.
9. When they included their mums in the 'Power' music video.
Girl power is ageless and Little Mix proved that by featuring their mums in the epic 'Power' video.
10. 'Woman Like Me' - the single, the visual, the performances.
Ain't no drama between these queens…Nicki Minaj & Little Mix perform their brand new song 'Woman Like Me' #MTVEMA pic.twitter.com/GFtjJzIf3t

— MTV EMA (@mtvema) November 4, 2018
Little Mix wanted to start LM5 with girl power front and centre and boy did they. Not only does 'Woman Like Me' have some of Little Mix's most empowering lyrics yet ("I always say what I'm feeling // I was born without a zip on my mouth") but the video is a huge two fingers at how women are expected behave. Also that EMAs performance. Incredible.
11. When Jade wore this iconic t-shirt.
WOMEN ARE MORE THAN MUSES. Shout out to all the amazing women past and present who fight for the rights and freedom of women Jade x pic.twitter.com/AOsIO9D3SE

— Little Mix (@LittleMix) September 11, 2018
Mic drop.
12. When they used their platform to spread awareness about female genital mutilation and breast cancer.
Thanks to @LittleMix in a matter of hours a whole new generation of young people have become engaged in the work to #endFGM. Love them standing with me and so privileged to have been given the opportunity to share my experience and faith in Ending #FGM by 2030.

— Nimco Ali (@NimkoAli) November 2, 2018
Little Mix have already revealed that the second single from LM5 will be 'Strip' and, as part of its campaign, they've chosen to raise awareness around some incredibly important issues. In their words, "LM5 is all about embracing, empowering and celebrating women and we wrote 'Strip' to embody that message."
The 'Salute' girls then added: "Over the past few months, we have been lucky enough to work with and get to know some incredible women and we really want to shout out about them. They embody what Little Mix stand for and it's time to tell their amazing stories.
From Daughters of Eve (a non profit working to end FGM) to CoppaFeel! (a charity encouraging women to get check for breast cancer), the girls are getting involved in some incredibly vital charities.
13. When Perrie called out the photo-shop police.
View this post on Instagram
Little Mix are known for being real af on Instagram so it was bizarre to see Perrie get accused of photoshopping her bum in a holiday snap last year. Never one to let the haters win, Perrie posted a video afterwards to prove that the stunning photo hadn't been edit.
14. When they centred a lesbian love story in their 'Only You' music video.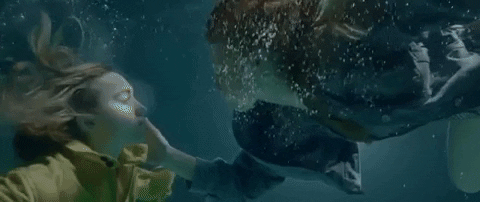 If it weren't already clear that Little Mix are brilliant LGBTQ+ allies, they proved it once again by making the 'Only You' video about a same sex romance. Representation like this is so necessary and fans immediately praised it.
15. When Leigh-Anne wrote this amazing post about how women are judged.
People can sometimes be quick to judge women at face value and what they see on the outside. If everyone took the time to look a little deeper I think the world would be a better place. I may have small tits but I have a really big heart #WomanLikeMe
Leigh x pic.twitter.com/McFNZImCup

— Little Mix (@LittleMix) October 9, 2018
We need Little Mix to make "I may have small tits but I have a really big heart" t-shirts now.
Little Mix's new album LM5 is available to stream and download now on Apple Music. You can also get exclusive content including a Q&A with the band, and videos of them performing new tracks from the album recorded live at an exclusive Apple Music show on Tuesday 13th November. Start your 3 month free trial now.
Watch Perrie Edwards talk body positivity with Apple Music:
Get a sneak peek behind the scenes with Little Mix as they talk exclusively to Apple Music: