Bette Midler Just Made Kim Kardashian's Tweets A Lot More Entertaining
11 March 2015, 12:03 | Updated: 8 May 2017, 17:09
So relatable.
It's no secret that we all tend to put a lot of thought into even the most mundane tweets about our lives. But if you're ever in need of any validation about your status updates, just imagine them being sung by a musical icon like Bette Midler.
Luckily for Kim Kardashian, she no longer has to fantasise.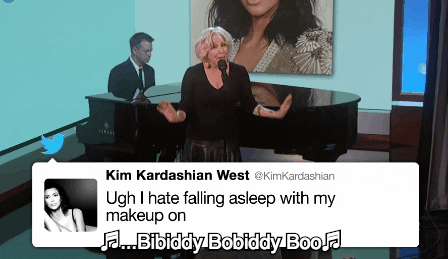 A handful of Kim's iconically dull 140-character musings have been immortalised in song by the Divine Miss M on Jimmy Kimmel Live this week. It's beautiful, but tragically brief.
We do have a little bit of nagging guilt, though. Is Kim's Twitter an easy target for jokes? Maybe. But as long as people keep finding new and inventive ways to highlight her opinions on flat-heeled shoes, we hope she never stops.
Check out the wondrous segment below.