The Internet Thinks Beyoncé Is Pregnant Again Because This Pile Of Sand Says So
12 January 2015, 13:10 | Updated: 8 May 2017, 17:09
We're burying our heads in the sand in the face of a new pregnancy conspiracy.
You know when you make something out of sand and it becomes totally real?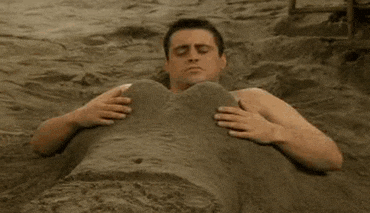 Yeah, me neither.
Fresh new pregnancy rumours are circulating around the interwebs today, as Beyoncé posted a sandy Instagram photo yesterday that could either be very well-placed, or very telling.
Yep, your eyes aren't deceiving you; Queen Bey's buried in the sand, with what looks like a very strategically placed bump over where her belly is. So naturally the entire Beyoncéverse is having a field day at the prospect of a fourth little Carter appearing from beneath the beach.
It's not THAT far-fetched a theory, and we will feel pretty silly if she actually is pregnant. But if this sand-sculpture is the only thing to go on, then we'd also better report that Beyoncé is missing a boob. #CONGRATSJAYANDBEY #FINDTHEBOOB
Also, if this is supposed to be the first hint at a new Beyby on the way, it's not really in keeping with her usual style. In case you'd forgotten, when Bey was pregnant with Blue Ivy she announced it like THIS:
And we all got pretty hype! So you'd think we'd expect the same kind of treatment for Baby Number Two.
We'll keep our ears to the sand for this one. In the meantime, allow us to suggest an alternative theory: Beyoncé is the Sand Guardian.