The Cat-Based Feud Between Billy Corgan And Anderson Cooper Just Reached New Heights
28 November 2014, 12:22 | Updated: 8 May 2017, 17:09
Forget Flowers, say it with cats, t-shirts, and swearing.
According to Smashing Pumpkins frontman Billy Corgan, when you need to settle a public feud you need three things: T-shirts, cats, and a big ol' 'F**k You'.
It started with Billy appearing on this surprisingly adorable magazine cover.
Billy appeared on the cover of a publication for 'PAWS Chicago', a humane organisation for the protection of homeless domestic pets.
Then TV journalist Anderson Cooper took a cheap shot, basically calling Billy 'uncool' on his show.
"So perhaps Billy Corgan is, I don't know, off his alternative rocker. But I think maybe there's more to this, maybe he's being ironic, or maybe when the cool rock stars start doing less rock starry things, it kind of makes us face our own morality. See I want R.E.M. to stay just the way I know and love them, I don't want 'Everybody Hurts' to suddenly be used in an Excedrin commercial. I don't ever want to see a product called Eddie Vedder's Prune Jam. I want to see neither Stephen Malkmus nor Thom Yorke on the cover of AARP."

Anderson Cooper, Anderson Cooper 360
Billy was unimpressed, and hit back.
@andersoncooper Sorry to disappoint, but when I'm not raising cain for a great organization like @PAWSchicago, I'm still making REAL music

— Billy Corgan (@Billy) October 31, 2014
@andersoncooper I realize you're too busy being a globalist shill to know the difference, but there are those of us who do as we like

— Billy Corgan (@Billy) October 31, 2014
And now he has taken it up a heck of a notch.
These t-shirts were reportedly available at the merchandise table of one of Corgan's recent shows.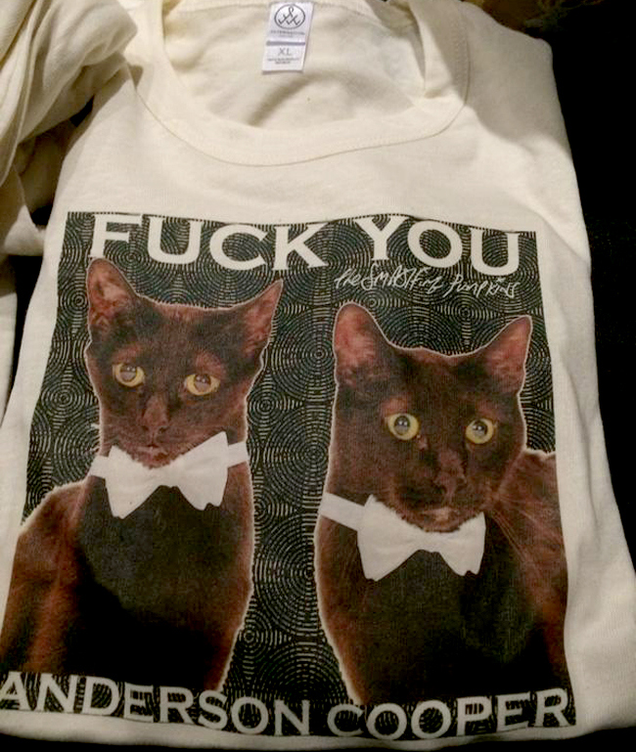 Nice. We kind of want them.
Cats are totally punk rock, and so is trying to help them where we can. We don't know what makes Anderson Cooper consider that 'uncool', but we wouldn't be surprised if Billy makes that t-shirt design his next album cover.