10 Realities Of Abortion That Everyone Needs To Be Aware Of
30 November 2016, 10:34 | Updated: 19 November 2018, 14:59
Promoted by British Pregnancy Advisory Service
It's time to get real and find out the facts about abortion...
Abortion is one of those words that still makes some people feel instantly on edge or uncomfortable , and that's a shame, because it stops people from talking openly and honestly about the subject.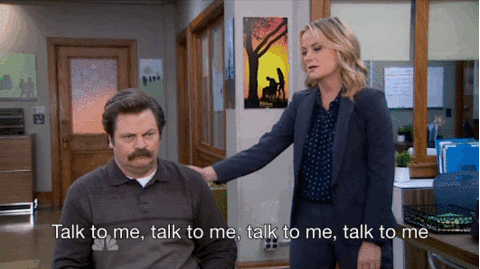 Giphy
Whether abortion is something that has affected you personally or possibly someone you know, it's important to have the facts straight and separate the myth and rumour from the actual reality.
So, let's take a look at some of the realities of abortion that everyone should know.
1) You are not alone.
1 in 3 UK women will have an abortion before the age of 45. In 2015, 184,571* women had an abortion in England and Wales. So, if you are considering an abortion, don't feel awkward about talking to your GP, Family Planning Clinic or a trusted abortion service. It is more commonplace than you think.
2) It is not a risky procedure.
Abortion involves a simple medical procedure and most women don't experience any complications with their treatment. Abortion has a complication rate of 0.2%*, the earlier the gestation of the pregnancy - the safer it is*.
3) It doesn't take long to recover from abortion.
Although there is a little pain and bleeding, recovery usually happens quickly after abortion. Most women get back to their normal activities within a day or two. Research has shown that while some women feel sadness or guilt after an abortion, many more feel relief.
4) There are clear legal time parameters.
The Abortion Act 1967 allows for treatment up to 24 weeks gestation in premises which are approved for providing abortion. If the pregnancy is over 24 weeks, abortion is only possible in an NHS hospital if there is a serious risk to the woman's life or there are foetal abnormalities.
5) Treatment requires 2 doctors to agree it can be done
This is the only UK medical procedure that requires the signatures of 2 doctors before it can go ahead. Both doctors must agree that a woman's request for abortion can be done legally according to the Abortion Act 1967, although the woman doesn't have to meet either of the doctors in person.
6) Women won't have to pay for the procedure.
98%* of UK women have the cost of their treatment paid for by the NHS. Unfortunately this does not apply to the women of Northern Ireland who have to travel to England and pay for their own treatment.
7) Confidentiality is assured.
If you want to keep details about treatment completely private, you can rest assured that all records are housed safely and you will even be asked permission by BPAS before they contact your GP.
8) You can change your mind at any time before treatment.
If you experience an unplanned or unwanted pregnancy, what matters most is that you are happy with your final decision. BPAS advises that around 15 % of women they see do not proceed to abortion treatment.
9) Abortion doesn't make you infertile.
Actually it is really important to start contraception straight after an abortion as fertility returns very quickly. There is no proven connection between abortion and infertility.
10) You always have options.
There are several different forms of treatment available and women will be able to discuss with their doctor which one is right for them.
If you would like more information about abortions and/or sexual health, head over to bpas.org

.
*According to The Abortion Statistics, England and Wales: 2015 see www.Gov.uk