16 Songs You Literally Didn't Realise Were About Sex
28 September 2017, 09:09 | Updated: 19 November 2018, 15:00
Promoted by British Pregnancy Advisory Service
The more you know...
How many times have you been singing along to a song only to discover much later that it is, in fact, incredibly filthy? Well, it's happened to us a lot. It can actually be really embarrassing if you get caught singing in front of somebody wildly inappropriate like a teacher, or worse, your parents. Yikes.
Well, to spare your blushes, we've made a list of secretly sexy songs to help you avoid any more awkward encounters. Don't say we don't have your best interests at heart.
1. Hailee Steinfeld - Love Myself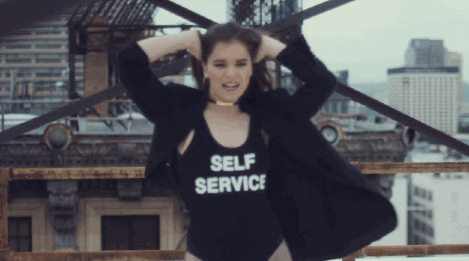 GIPHY
When Hailee says, "Pictures in my mind on replay, I'm gonna touch the pain away", she's not picturing puppies or beautiful landscapes. And she's certainly not touching anything above the waistline.
2. One Direction - Live While We're Young
We thought the 1D boys were innocent little cherubs. It never crossed our minds that this banger was about getting it on with a stranger. "Tonight, let's get some, and live while we're young". Your wish is my command, lads.
3. DNCE - Cake By The Ocean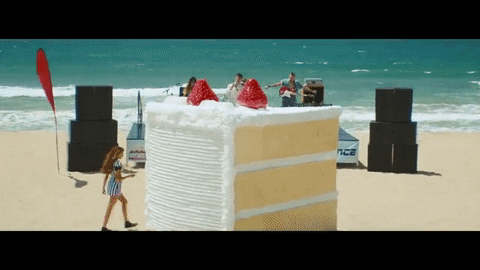 'Cake by the ocean, how random!' That's what you first thought when you heard this song, wasn't it? Well, I regret to inform you it's actually about boning on the beach. And I thought getting sand on your cake was enough of a nightmare, never mind in your...
4. Metro Station - Shake It Off
Honestly, Metro Station need to wash their mouths out. You could be forgiven for thinking this pop-punk hit was about shaking off your anxieties but, no, it's in fact about getting off with your gal. Someone call their parents immediately.
5. Fifth Harmony - Work From Home
Sometimes known as 'the freelancers anthem', this 5H song isn't really about doing your tax returns or catching up with emails. No, they've got something much more ~physical~ in mind. To be fair, I probably should have realised when I heard the, "Nothin' but sheets in between us, ain't no getting off early" bit. Filth Harmony at their finest.
6. All Time Low - Backseat Serenade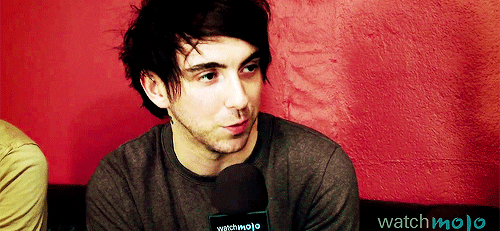 While the title of this song might suggest Alex Gaskarth is softly singing a love song to his bae who's slowing falling asleep in the backseat of his Honda Civic but, alas, it's something much more depraved. "You're salty like a summers day", he sings, while I gently throw up in the boot.
7. Ariana Grande - Side to Side
There's no delicate way to put this. This song is about being pounded so hard you're "walking side to side". I think I, and possibly Ariana, need a lie down.
8. FKA Twigs - Kicks
Better known for voguing and using kitchen utensils as percussion, on this one Twigs ponders the point of her relationship before deciding that she's better off paddling the pink canoe by herself and ditching the guy completely. Some things you just can't learn in school, folks.
9. Lady Gaga – A-YO
It's very easy to miss this one, mostly because of the countrified, hoe-down vibes but Gaga, true to form, it must be said, is enjoying a night of passion with mirrored ceilings and enough smokes to kill a small herd of cattle. Keep living your best life Gaga!
10. Years & Years - Meteorite
Years & Years
You'd think this astral disco banger would be about being hit by the intergalactic force that is love, but no. As Olly Alexander confirmed in an interview it's about fornication. Hard fornication. The more you know.
11. Feist - 'My Moon, My Man'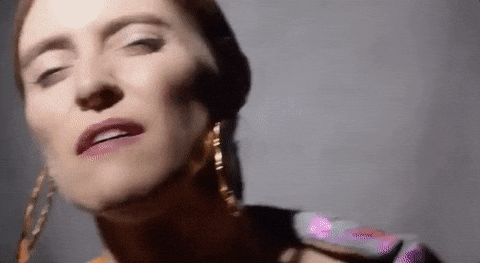 Don't let appearances deceive you. Feist might look and sound like someone you'd trust to babysit your children but she's not without her mischievous side. Rumours suggest that this song is being on your period and trying out more...adventurous types of sex. The clue is in the title.
12. Charli XCX - Body Of My Own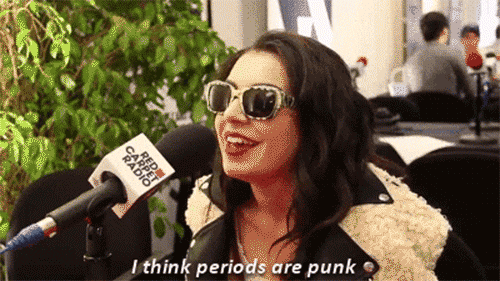 Much like FKA Twigs and Hailee Steinfeld, Charli is SICK of having to wait on someone and so she's, quite literally, taking matters into her own hands. Amen to that.
13. Fergie - London Bridge
I know what you're thinking. 'I thought this song was about the iconic London landmark?!' Well, not quite. Fergie Ferg is actually singing about getting down and dirty with a gentleman in one of those discotheques you've been hearing about. "I'm such a lady but I'm dancing like a hoe". Same, to be honest.
14. Harry Styles - From The Dining Table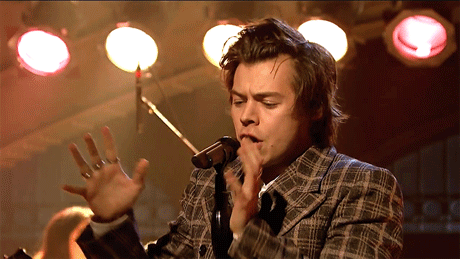 It's not just the girls that have been singing songs about beating the bishop. Hell no! Our Harold has been at it too. "Woke up alone in this hotel room / Played with myself / Where were you?". That's a sad image, isn't it? Someone give this guy a hug ASAP.
15. Ed Sheeran - The A Team
And here I was thinking that this tear-jerker was about the 80s television show but IT'S FAR FROM IT FOLKS. This one is actually about a prostitute and, erm, yeah it's not really that funny so, moving on…
16. Kelis – Milkshake
It's up there with life's biggest questions: Is there a god? Do aliens exist? What is Kelis singing about in Milkshake? Well guys, I'm 99.999% certain she's talking about her happy valley which is bringing all the boys to the yard. Now don't that make ya thirsty? I'll take my milkshake with extra cream on top, please.
It's important to be informed about your fertility, contraception and your reproductive health. For REAL advice, visit bpas.org - the UK's leading abortion care service.