Buzzing: Songs You NEED To Hear This Week #11
15 September 2015, 11:46 | Updated: 8 May 2017, 17:09
Need some new music? We got you.
There have been so many new bangers that we're finding it hard to keep up.
However, we've been sat with our speakers blaring to pick our top tracks from the past week and there are some corkers. With new songs from Lana, rising Swedish singer Zara Larsson and MNEK, Angel Haze, Wolf Alice and more, it's been an eclectic and incredible week for new music.
So turn up the volume and get involved PopBuzzers.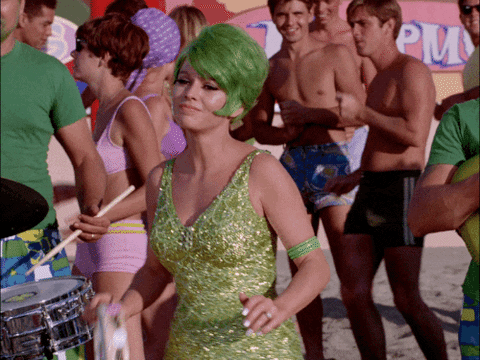 Lana Del Rey//"Music To Watch Boys To"

With Lana's new album Honeymoon merely days away, the singer has shared the latest buzz track from the record.
Originally slated to be the lead single, "Music To Watch Boys To" is a slinky downtempo number that sees Lana's vocals reverted and echoed heavily, giving the whole thing a sense that you'r listening to it in a cave. However, it's rather effective as you get this old Hollywood glamour vibe, the light orchestration and ghostly backing vocals giving the whole thing a haunting appeal.
While this song wouldn't have worked as a lead single (imagine!?), it's got enough layers that it's sure to add texture to the rest of Honeymoon. - AK
Brolin//"Nightdriving"

Brolin is a mysteriously masked, soulful-electronica singer. He claims he wears a mask on stage because he looks more like a member of hardcore punk band Minor Threat than a tender-voiced pop singer. Either way, we couldn't care less because this song is stunning.
'Nightdriving' is taken from his debut album The Delta set for release at the end of October 30. He said of the song that, "it's about mechanisms of escapism, optimism and the occasional desire to disappear to somewhere else. I began writing the tune vexed on coffee at 3 a.m. in my home studio before finishing it off with Raffertie [producer]". We get those vibes with the pulsating synths and driving beats, and the main refrain, "Come with me, Come with me". It's pure electronica escapism. - WW
Angel Haze//"Moonrise Kingdom"

Angel Haze is giving us everything on "Moonrise Kingdom". She is singing, rapping, and laying it all bare on the absolutely stunning release from the 23-year-old. The chorus certainly appeals to my pop sensibilities and is perfectly primed by a strong hook and musical backdrop. The track is obviously a rap song, but the construction is so unique and well thought out that it is so much more than a mere rap song. As long as Angel keeps dropping these absolute bangers, the sky is the limit for her. - NI
Zara Larsson and MNEK//"Never Forget You"

Now isn't the time to get into who Zara Larsson is (but keep your eyes peeled on PopBuzz), but let's just say that she's a very exciting pop entity indeed. Match that with British producer and popstar extraordinaire MNEK and you've got a match made in pop heaven.
What this song does so well is that it manipulates the sound of something like Justin Bieber's "Where Are U Now", adding a proper European twist on it. The bass is dirtier, the vocals are less polished and the emotion is twice as strong. Both Larsson and MNEK deliver killer vocals, riffing and running all over the shop. And when that 'drop' comes it comes in HARD. Perhaps the appeal is that it seems recognisable yet complete new at the same time, something that all good pop should be. - AK
Kiira//"Feels"

Okay, we're a little bit late to the party on this one, but better late than never!
The headline for this song almost writes itself, but we'll avoid the obvious and say that this song is a killer jam. Kiiara's debut single 'Gold' had bloggers frothing at the mouth back in June, and now the 20 year old Illinois-born singer hones in further on her alt-R&B sound with 'Feels'. If Purity Ring had written songs for Aaliyah then we think it would probably sound like this. It's been racking up thousands and thousands of plays since it dropped on the Soundcloud so expect to hear a lot more from Kiiara in the future. - WW
Wolf Alice//"Baby Ain't Made Of China"

It's only been a few months out from their long awaited My Love Is Cool, but Wolf Alice are back recording music and it's the bees knees. "Baby Ain't Made Of China" screams 90s grunge (as per) and they have returned to their usual style of the Soundcloud buzz track. There is a very decent chance we'll hear a re-mastered version of "Baby Ain't Made Of China" on the next album (again, as per). There is even a good chance this one is a throw away from My Love Is Cool. In that case, Wolf Alice's throwaways are stronger than the best tracks on some other people's albums and that's just not fair, is it? - NI