This Behind-The-Scenes Clip For Carly Rae Jepsen's New Music Video Promises Fun, Also Tom Hanks
18 February 2015, 15:56 | Updated: 8 May 2017, 17:09
Tom Hanks and pal Justin Bieber join Carly in a flash-mob for new track "I Really Like You".
There's no denying Carly Rae Jepsen knows how to make a great pop hit, and it doesn't hurt to have friends in the business like Justin Bieber to help get the word out. Half of the viral success of "Call Me Maybe" probably came from that video of Biebs, Selena Gomez and a host of others all having a dance party to the track.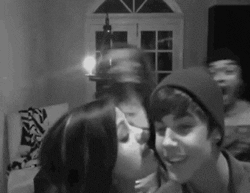 So when making her comeback with the video for new single "I Really Like You", it only makes sense to use the same tried-and-true formula; so Carly has roped Justin back in, as well as Hollywood's favourite uncle Tom Hanks, to take part in a dance-filled flash mob.
Honestly, it looks like it's going to be totally adorable. Footage from behind the scenes (well, specifically, a shot snuck from inside a cafe) promises a huge-scale dance party in the front, and space-filling supporters who don't know the choreography in the back.
We can't spot Justin in the video, but he was apparently there. He sent out an @reply of support to Carly following the day's shoot:
@carlyraejepsen @scooterbraun today was a great day. I need some rest :) #IReallyLikeYou video is gonna be amazing

— Justin Bieber (@justinbieber) February 17, 2015
D'aww.
The last official video Carly released was 2013's "Tonight I'm Getting Over You". Watch it and get hype for the new stuff.