We Got Carly Rae Jepsen To Play Emotion(al) Agony Aunt For Us
18 September 2015, 17:34 | Updated: 28 November 2018, 14:41
We mean, who better than the queen of emotion herself?
If you're not aware, Carly Rae Jepsen has probably released one of the best albums of the year with her sophomore record E·MO·TION.
The album, which was released in the UK today (18 September), has already been making the rounds in the US and Japan to rave reviews. Blending massive pop hooks with her distinctive vocals and perchance for alt-producers, Jepsen has moulded an album that's exciting and instantly classic.
Being that the whole album is about, well, emotions, we thought that we might get Carly play agony aunt. So we posed some genuine questions about relationships, heartache and heartbreak to get her advice. Here's what happened...
Hi Carly, I want to elope with my partner. How would you recommend we run away together and where's the best place for them to run away with me?
Carly Rae Jepsen: I'm a strong believer in elopements; I like the spontaneity of it and the lack of chaos that comes with having to plan a wedding. I would say go somewhere remote and meaningful to you. For me that would probably be Italy. I don't know exactly where, because I haven't explored it enough. Yeah.
Hi Carly, there's this guy in my class and I really, really, really, really, really, really like them and I want to find out if they like me, too. How should I go about finding out?
Carly Rae Jepsen: Look them in the eyes just a little bit longer than is comfortable or appropriate. Then leave it alone. Not come hither, come to bed eyes, but just a beat longer than normal. Just to share that moment of 'something's going on here'. That's usually enough for them to come chasing if they're actually interested.

Hi Carly, your song "Your Type" really spoke to me because I'm totally in love with someone who doesn't love me back. What should I do?
Carly Rae Jepsen: Give up [laughs]. Move on. Not everyone is for everybody and there's going to be moments where you pine for the person who doesn't pine back for you. I think the best use of your energy is to realise that there are many loves in your life and whether or not they're right in front of you they're going to be there soon. It's better to put your energy into someone who cares about you.
PopBuzz: How would you recommend getting over that situation?
CRJ: I would say, let me direct you to my song from the last album "Tonight I'm Getting Over You". Or you can just dance it off with your friends.
PB: Or dance if off to "Tonight I'm Getting Over You".
CRJ: : Pftt - you are a genius my friend.
PB: We try...

Hey Carly, I'm having "Boy Problems" and I really want to break up with my boyfriend. What's the best way for me to do this?
Carly Rae Jepsen: Have a conversation face-to-face and keep it as short and sweet as possible. Oh, and be kind.
PopBuzz: What's the worst way to break up with someone?
CRJ: To avoid them completely until they break up with you [laughs].
Dear Carly, I keep getting warm blood over this guy that I'm seeing and I really want to throw in the towel and ask him to be my one and only. Can you suggest a really romantic way for me to do this?
Carly Rae Jepsen: Ok, a guy friend of mine told me this really romantic thing he did for a girl and ever since I feel like it should be in a movie, so I'm going to go to that. What he did was he had a room he filled with tiny parachute men hanging all over the entire room so that when she came in he was standing there with a fake parachute on his own back and he said, "I'm falling for you." It's kinda sweet.
PopBuzz: Did it work?
CRJ: I hope so, but I don't know the rest of the story...
PB: It does seem a bit elaborate, Carly.
CRJ: [Laughs] It is quite elaborate, yes. It's either you're going to be really turned on or really turned off depending on who you are as a person.
Dear Carly, my partner and I are in a long distance relationship and I never get to hold them as long as I would like to. I'm finding it really hard. Do you have any advice as to keep a long distance relationship going?
Carly Rae Jepsen: I think you need to stay positive. If you get into that, "I really miss you today and it sucks without you" mode then it's contagious. This gloom just surrounds the whole thing. You have to appreciate the fact that you both are living separate lives in different places and you should appreciate the time that you do get.

Hi Carly, loving the album. Just got a quick one for you. My girlfriends and I really want to go out and meet some boys. How do we let them know that we didn't just go out to dance?
Carly Rae Jepsen: A short skirt does it...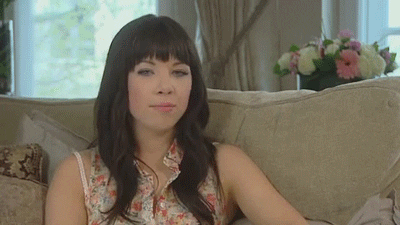 Hi Carly, I've just broken up with a guy and I really want to show him what he's missing. What's the best way for me to show him what I got?
Carly Rae Jepsen: I think the best revenge is happiness in your own life rather than being vindictive. You don't need to prove anything. You really know you're over somebody when you can be happy for them, too. But if you're not there yet, I'd say try to focus on your own happiness and he'll see it soon enough.
PB: So no elaborate pranks?
CRJ: Maybe when I was younger [laughs]. But I can't say I recommend that behaviour now.
Hi Carly, my boyfriend and I aren't working out. I felt like I really needed him. Should I have changed parts of myself to fit better with him?
Carly Rae Jepsen: I think there's always a bit of give and take in any good relationship. But the fundamental core of who you are and what makes you happy should never be sacrificed. If somebody is asking that of you I think they're probably the wrong match.
Finally, Hi Carly. How does it feel to have released the best album of the year?
Carly Rae Jepsen: Awww! Well thank you, that's very sweet to say. That makes me all blushy.
NB// None of the questions above are based on any real romantic relationships, but rather song titles/lyrics from Carly's new album E·MO·TION.
Carly Rae Jepsen's E·MO·TION is available now
Watch a wonderful behind-the-scenes documentary about the recording of the album below.