Aaron Taylor-Johnson opens up about having kids at a young age with Sam Taylor-Johnson
15 August 2023, 12:35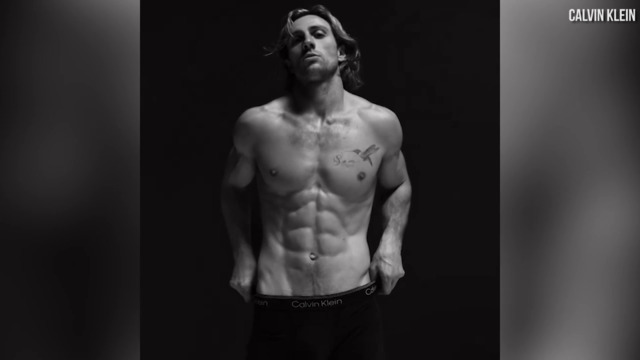 Aaron Taylor-Johnson's new Calvin Klein ad goes viral
"Teenagers, man. I've got teenagers."
Aaron Taylor-Johnson has just given a rare glimpse into his personal life in a new interview with Esquire, where he discusses his relationship with director Sam Taylor-Johnson, his kids and the reasons why he turned down some big movie roles.
Aaron, 33, was 18 when he met Sam, then 41 and now 56, while auditioning for Nowhere Boy in 2008. One year later, Aaron proposed to Sam and they welcomed two daughters who are now 13 and 11 years old. Sam also has two daughters from her previous marriage, now aged 26 and 16.
Opening up to the publication about his life as a father, the Kraven The Hunter star said: "Teenagers, man. I've got teenagers."
He then went on to discuss how important his role as a dad is to him, and how it played into the kind of roles he took on. In fact, he also explained that the reason why he didn't pursue all those big franchise roles back in the day, is because he wanted to be with his family.
READ MORE: Aaron Taylor-Johnson's new Calvin Klein ad sends the internet into thirsty chaos
"In my opinion, the actor that goes job to job becomes fucking boring," Aaron said. "You know that someone's going to pick you up, take you to work, do your makeup, tell you, 'Here's your mark. These are your lines. You're fucking great!' And on to the next job. Fuck off."
"I'm sure people dream of that. If this is what you want to do, that's great. It doesn't feed my soul. I enjoy the normality of things, the everyday stuff. Getting my kids ready in the mornings, taking them to school and activities—that's plenty. That feeds my soul."
While discussing his earlier roles in Kick-Ass, Godzilla and Avengers: Age of Ultron, Aaron explained that those roles led to him being offered more money for even bigger projects with parts "that nobody knows about—big, huge franchises that were in play."
"I wanted, purely, to be with my babies," he continued. "I didn't want to be taken away from them. I battled with what that would be like."
"I would say I was probably not ready to be in that position anyway—it was too early," he said of taking on those demanding roles. "But yeah, I also slightly didn't give a fuck."
Speaking about his marriage to Sam, and whether they connected because of their creative partnership, the actor said: "I don't think that's accurate. Yeah, we worked — I met Sam as actor and director. I think we're really great at collaborating. But that's not why I fell in love with her."
He describes their relationship as "gut instinct" and adds that he knew he "was going to have a big family. I knew I was going to be a young father. I knew I was going to have many kids."
He then shies away from speaking further about her and their relationship, telling the interviewer: "I'm trying to be as honest as possible. I've probably talked to you more about my kids and Sam than I have with anybody. I've got really nothing to hide, and I'm secure in what we have. But I'm not going to unlock things that are actually precious to me."
NCT DREAM vs. 'The Most Impossible NCT DREAM Quiz' | PopBuzz Meets