Adam Levine releases statement amid claims he cheated on wife with Sumner Stroh
20 September 2022, 17:34 | Updated: 20 September 2022, 17:38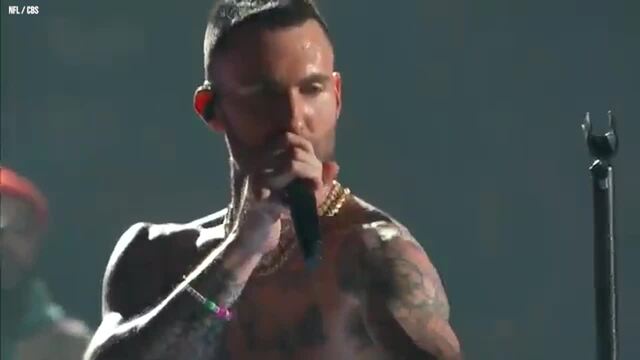 Adam Levine gets shirtless during the Super Bowl halftime show
Adam Levine has denied having an affair while married to Victoria's Secret model Behati Prinsloo.
Adam Levine has responded to rumours that he has cheated on his wife Behati Prinsloo.
Taking to Instagram amid allegations that he had an affair with Instagram model Sumner Stroh, Adam Levine has denied the claims.
"A lot is being said about me right now and I want to clear the air. I used poor judgment in speaking with anyone other than my wife in ANY kind of flirtatious manner," he wrote in an Instagram story posted on September 20th.
"I did not have an affair, nevertheless, I crossed the line during a regrettable period in my life."
READ MORE: Maroon 5's Adam Levine criticised for saying "there aren't any bands anymore"
Adam, 43, then went on to say that the situation with 23-year-old Sumner became "inappropriate" and that this is something that he has addressed and has taken "proactive steps to remedy this with his family."
"My wife and my family is all I care about in this world. To be this naïve and stupid enough to risk the only thing that truly matters to me was the greatest mistake I could ever make," he added. "I will never make it again. I take full responsibility. We will get through it. And we will get through it together."
Adam Levine denies having an affair with model Sumner Stroh, but admits he "crossed the line":

"I did not have an affair, nevertheless, I crossed the line during a regrettable period of my life." pic.twitter.com/Ro9NcoZ41M

— Pop Crave (@PopCrave) September 20, 2022
The public apology is the first time Adam has addressed the situation since the rumours began circulating after Sumner posted a TikTok video on Monday 19th September, claiming that she had had an affair with a "man who's married to a Victoria's Secret Model".
"At the time, I was young, I was naive, and, I mean, quite frankly, I feel exploited," she continued, before confirming that the man was Adam and sharing a series of explicit DMs from the singer. Sumner claimed that the affair lasted for "about a year".
Sumner also shared another DM that was sent after the alleged affair had ended, with Adam telling the influencer that he wanted to name his child after her. His wife, Victoria's Secret Angel Behati Prinsloo, is currently pregnant with the couple's third baby.
"OK serious question. I'm having another baby and if it's a boy I really wanna name it Sumner. You okay with that? DEAD serious," the screenshot read, followed by a single shrugging emoji.
Sumner noted that she came forward about the affair after she shared the Instagram conversations with "friends I thought I trusted," who then went on to try to sell the story to the press.
Rina Sawayama Reacts To "Industry Plant" Rumour and Paints A Self-Portrait | PopBuzz Meets