The internet is confused over Addison Rae and Kourtney Kardashian's "weird" friendship
25 August 2020, 17:27 | Updated: 31 August 2022, 15:37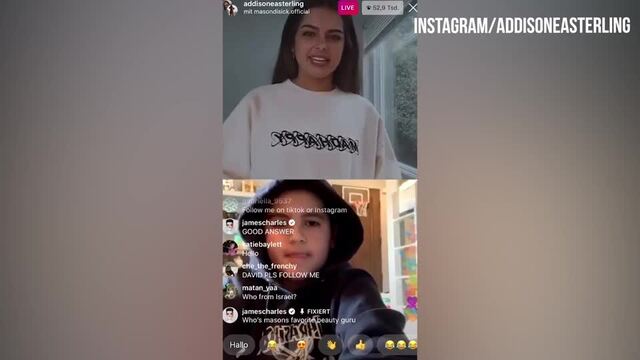 Mason Disick reveals his fave beauty guru in livestream with Addison Rae
How did Addison Rae and Kourtney Kardashian meet? An investigation…
If you've been on Instagram lately, you'd know that Addison Rae and Kourtney Kardashian have suddenly become BFFs overnight? Yep, it's mind-boggling. Many have wondered how the 19-year-old and 41-year-old possibly crossed paths.
Well, apparently, Addison and Kourtney's friendship started in January when Kourtney asked YouTuber David Dobrik to help launch her son Mason Disick's TikTok account. In March, David then got Addison (one of TikTok's biggest stars) involved in Mason's TikTok, and that's when her and Kourtney really hit it off.
READ MORE: Kourtney Kardashian deletes Mason's Instagram after he posted about Kylie Jenner's private life
"I met Kourtney through a friend, through David," Rae told The Tom Ward Show in July. "We surprised Mason, because Mason liked my videos on TikTok." She added: "I kind of just stuck around and we got really close. We started working out together. We did a video on her YouTube of us doing a butt workout and stuff, so that was fun."
Well, Addison and Kourtney recently took their friendship to the next level. Addison headed to Palm Springs with Kourtney and some friends for a day by the pool and, of course, a bikini-clad photoshoot ensued. In one photo, Kourtney is standing over Addison with a camera, while Addison kicks back in her bikini below.
Whilst the photos were a hit on the 'gram, some are finding their new-found friendship a little, um, odd. Some have a problem with the 22-year age-gap, like, what do they talk about!? Others thought Addison might even be dating Kourtney's ex-boyfriend Scott Disick.
It's safe to say, the internet had some thoughts on Addison and Kourtney's new friendship…
the fact that addison rae is 19 years old and kourtney kardashian is taking pics in a bikini standing over here at her old ass age is fucking weird idc

— ARI J. (@AriJBlige) August 24, 2020
something is off about addison rae and kourtney kardashians friendship ....... watch addison start dating scott or some shit like that lmao

— skorupi (@grapesodashawty) August 24, 2020
I find it weird that Kourtney Kardashian is 40 years old and that is hanging out Addison Rae who is 19 years old .

— Anissa Nicole 🤍 (@Anissa_xoxoxo) August 24, 2020
what is addison rae who is young enough to be kourtney kardashians daughter... doing posting thirst traps together like .... what

— s⁷ (@fiItertaegi) August 24, 2020
What do you think? Tweet us @popbuzz and let us know!