Alabama Barker claps back at people criticising her weight gain in viral TikTok video
22 August 2023, 12:32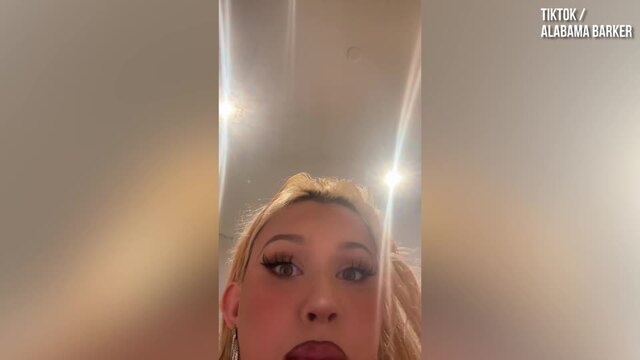 Alabama Barker claps back at people calling her fat
Alabama Barker also revealed that she as a thyroid problem and an auto-immune disease that causes her weight to fluctuate.
Alabama Barker has clapped back at people calling her "fat" and explained why she's gained weight in a viral TikTok video.
Everyday celebrities are bombarded with people making unwarranted comments about their weight. Over the course of the past few months, Ariana Grande, Selena Gomez and Madison Beer have all spoken out against trolls body-shaming them. Taking to TikTok, Ariana said: "I think we should be gentler and less comfortable commenting on people's bodies."
Now, Alabama Barker, who is a 17-year-old influencer and Travis Barker's daughter, has called out people commenting on her weight.
READ MORE: Blink 182's Travis Barker calls out Echosmith drummer who allegedly DM'd his 13-year-old daughter Alabama
In a TikTok video, Alabama addressed the comments about about her weight and people saying she's a "catfish" and "fat".
Alabama said: "First of all, let me eat you up because I'm so fat. Paparazzi will purposefully take any ugly picture they can get of you just for views and I would love to see you guys getting random pictures taken of you when you're leaving the grocery store in the middle of a sentence with your mouth wide open and let's see how beautiful you look."
Alabama also opened up about why she's gained weight recently. She said: "I also have a thyroid problem and an auto-immune disease so that's one of the main reasons why I have weight gain". Alabama then added: "it would be very appreciated if you guys just keep your opinions to yourself."
Alabama ended the video by saying: "You guys also act like I've gained a thousand pounds. It's like five, 10 pounds which is so normal for a lot of girls. Weight fluctuates and I don't want any girls that are young watching this that are gaining weight to ever think there's something wrong with it."
The video has since been viewed over 11 million times with lots of fans rushing to support Alabama in the comments and open up about how they relate. One fan wrote: "me too my thyroid disease has made my weight so hard to control".
Another said: "I have thyroid problems and an autoimmune disease too so I understand! weight really does fluctuate".
Alabama isn't the only person who has spoken out about how their auto-immune disease causes their weight to fluctuate. In a recent TikTok live, Selena Gomez said that her weight often fluctuates because of medication she takes for lupus: "I tend to hold a lot of water weight and that happens very normally. And then when I'm off of it, I tend to kind of lose weight."
In other words, you never know what someone is going through and perhaps most importantly, someone else's weight is none of your business.
Peach PRC Paints A Self-Portrait And Answers Questions About Her Life | Portrait Mode