Bella Ramsey was worried about reaction to them coming out as nonbinary
14 June 2023, 14:56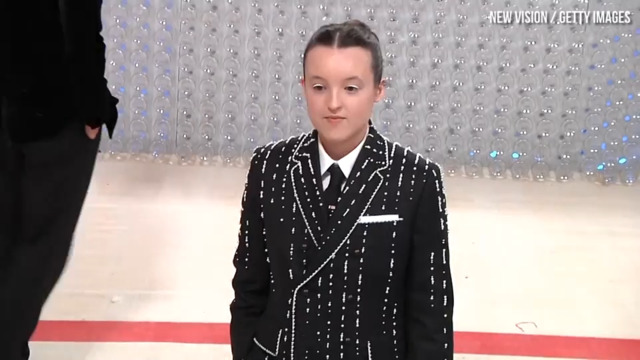 Bella Ramsey attends Met Gala 2023
"I've fought that word for so long. I didn't want people to think I was just trying to be trendy."
Despite being one of the most prominent young nonbinary actors on our screens right now, Bella Ramsey has shared that they were worried about coming out publicly because they didn't want people to think they were just being 'trendy'.
Bella, who earned huge critical acclaim for their role as Ellie in the HBO show, came out as genderfluid in January 2023, just before they were launched into the stratosphere with the success of The Last of Us. In an interview with The New York Times, Bella explained: "I'm very much just a person. Being gendered isn't something that I particularly like."
Now, the actor has opened up about their gender identity journey with British Vogue – and the reason why they're now going by they/them pronouns.
READ MORE: Bella Ramsey wore a chest binder while filming The Last of Us to focus better on set
Opening up about their public coming out, Bella said: "Although I was confident on set, I was very shy everywhere else."
Bella shared that their shyness actually made it quite hard for them to come out as nonbinary at the start of the year, while doing publicity for the show. "I've fought that word for so long," they said. "I didn't want people to think I was just trying to be trendy. But it's a very succinct way to describe to people who I am."
Speaking about their pronouns, Bella also opened up about how they compromised at first about how they wanted the world to address them. Bella previously told NYT that they "couldn't care less" about what pronouns people used for them.
"I had a lot of anxiety around pronouns," they said. "When The Last of Us first came out, I was like, 'Everyone just call me "she" because I look like a "she" to you, so it's fine.' But now I'm able to vocalise it more, being called 'they' is the most truthful thing for me. That's who I am the most."
Bella also explained how being in the public eye in such a visible way put them under pressure to define their gender and sexuality before they were ready.
"You never fully know who you are, it's ever evolving. But I certainly think that people have gathered that I'm not 100 per cent straight. I'm a little bit wavy, you know? That's what I like to say."
Niall Horan Breaks Down Every Song On 'The Show' | Making The Album