Bhad Bhabie defends her new look after being accused of "blackfishing"
7 April 2020, 12:23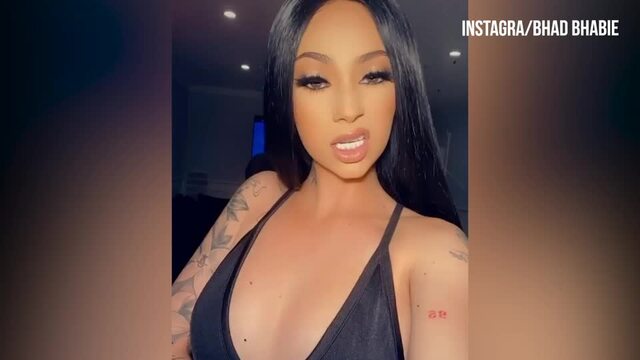 Bhad Bhabie faces accusations of "blackfishing" over recent videos
Bhad Bhabie, born Danielle Bregoli, received criticism after sporting a new look on Instagram.
Bhad Bhabie is being accused of "blackfishing" after sharing a collection of videos on Instagram where her skin tone looks significantly darker. Blackfishing can be described as when a person (usually white) tries to make themselves appear black. A number of influencers were called out for pretending to be mixed race last year and some even equate it to modern-day blackface.
READ MORE: Bhad Bhabie says Billie Eilish hasn't text her back since she got "famous"
The 17-year-old rapper shared a number of videos of herself on Monday (Apr 6), wearing a long, dark wig. Bhad Bhabie also sported a deeper complexion than she has previously.
Of course, Bhad Bhabie's transformation didn't go unnoticed.
the fuck you mean this is bhad bhabie....she is a white woman. i told her ass to act white and i got d3ath threats from her ugly ass minions. people need to realize how weird this bitch is. pic.twitter.com/vnf3qdanBa

— asia⁷ misses jk ☆ (@je0nluvrr) April 6, 2020
Y'all gave Bhad Bhabie clout and let her think she's welcome 🤷🏽‍♂️ I blame y'all. Should've left her on Dr.Phill

— JayDaOtter 🦦 (@RikoDaGod) April 6, 2020
Bhad Bhabie has now addressed the backlash and shared screenshots of fans defending her transformation on Instagram Stories as well as a personal message, after noticing her name was trending on Twitter.
She wrote: "Millions of people sick, thousands dying every day and y'all worried about me getting my makeup done for a photoshoot? I'm usually the wild one but y'all need to chill and focus on what's important right now."
This isn't the first time Bhad Bhabie has been accused of blackfishing and cultural appropriation, though. Bhad Bhabie has been pulled up on wearing box braids in the past – but she has never apologised for it.
In December last year, in response to backlash over her hairstyle choices, she said: "To all the black females that are saying my hair ain't meant for box Braids guess the fuck what y'all hair ain't meant to be straight but y'all glue whole wigs on to your heads and sew Brazilian/Indian/Peruvian hair which is anything like your natural hair texture at all and I don't say a god damn thing neither do the other cultures that you get the hair from."
READ MORE: Bhad Bhabie claps back after being accused of cultural appropriation for wearing box braids
What do you think? Tweet us @popbuzz and let us know!