Charli D'Amelio calls out TikTok user sexualising her dance videos
15 June 2020, 17:52 | Updated: 3 November 2020, 10:44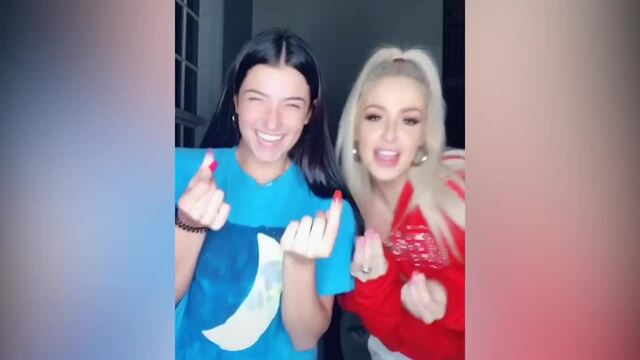 Tana Mongeau and Charli D'Amelio collaborate on TikTok
"Maybe you should stop thinking kids are sexy."
Charli D'Amelio has clapped back at a TikTok user that sexualised one of her dance clips.
As you know, Charli is one of the biggest stars on TikTok. The 16-year-old became the face of Gen Z, achieving her colossal TikTok fame through her carefully choreographed dance routines.
READ MORE: TikTok stars Charli D'Amelio and Lil Huddy confirm breakup on Instagram
However, that sort of internet fame isn't without its challenges. Case in point, Charli having to fight off a creepy man, who have something to say about her dancing skills.
Charli shared a clip of herself dancing to the 'Savage x Animal Crossing LLusion Remix' by llusionmusic in a crop top and jogging pants. The video was liked 3.8 million times. However, a TikTok user then reposted Charli's video alongside one of himself seemingly simulating masturbation.
"Charli, you seem like a really sweet girl, but you're 16," he says. "There's some old ass men beating their meat to you right now. I just feel like you should know that."
In response, Charli commented: "If you have a problem with a minor dancing thinking it is sexual maybe you should stop thinking kids are sexy." *mic drop*
This hasn't been the first time Charli has been forced to stand up for herself, though. Sadly, Charli has said that she often receives hurtful comments about her body and hat she wears online too.
Charli and her older sister Dixie have now partnered with UNICEF to combat online bullying. In a clip for UNICEF in February 2020, she said: "Some of the most hurtful comments I've read about myself online are, 'She's fatter than when we got her famous.' Or, 'she's ugly'. They don't like how my face looks for some reason. A lot about my body shape, my body type, which hits close to home because I struggle a lot with body image, body dysmorphia, bad eating habits. No one really knows that.
READ MORE: QUIZ: Are you more Alt TikTok or Straight TikTok?
"I'm still a 15-year-old teenager – girl, especially. It hurts for everyone, no matter who you are. Getting hundreds of thousands of hate comments per week is a lot to handle."