Trump supporters are fuming after Dwayne 'The Rock' Johnson endorses Biden
29 September 2020, 17:13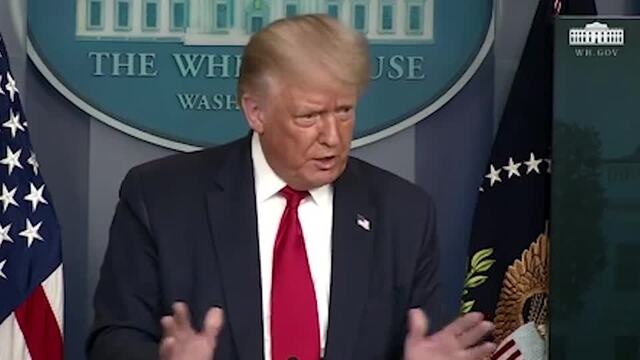 Trump defends retweeting doctor that said 'masks don't work'
Dwayne 'The Rock' Johnson released a video endorsing Joe Biden for president, and his conservative fan-base are not happy about it.
Like many other celebrities, Dwayne 'The Rock' Johnson has kept quiet on his political stance until this year. And with the upcoming election, this week he spoke out for the first time about his decision to endorse Joe Biden.
Unfortunately for the 48-year-old wrestler-turned-actor, many of his fan-base are conservative Americans. It's safe to say they didn't take well to the news, and he has since been hit by a barrage of backlash from Trump supporters.
In the video, which was posted to social media, The Rock said: "Endorsing is something that I've certainly not done in the past, so I'm gonna go big. You guys know me: if I go, I go big.
READ MORE: Trump claimed it cost $70,000 to do his hair and people are losing it
"As a registered independent for years now with centrist ideologies, I do feel that vice president Biden and senator Harris are the best choice to lead our country, and I am endorsing them to become president and vice president of our United States."
He then prompted his fans to register to vote, and the second half of the video saw him sit down with both Biden and Harris for a "great and extremely productive conversation."
And over 378,000 likes later, there's been a mixture of responses - not from fans who are surprised about his stance, but conservatives that are angry he's finally spoken out about it as someone who is not actively involved in politics, and have accused him of being "afraid" of Trump.
They've even gone as far as accusing Biden of "blackmailing" The Rock and have tried to argue that he hasn't given Trump a fair chance. Well...Trump's had some time to plead his case.
Get over yourself. We the people don't need you - you need us and we are overwhelmingly done with your condescending attitude. Hollywood is dead. Our family will no longer watch anything you put out @TheRock . You are for entertainment not endorsements.

— Lynette (@LynetteSovde) September 27, 2020
Imagine the blackmail they have on The Rock - to make him do stuff like this.

— Jevon Smith 🇺🇸 (@me_think_free) September 27, 2020
You're an extreme let down... damn. May karma bite you as hard as humanly possible...My kid will no longer watch Moana- because I can't support you any longer....
You are now Dwayne the 'Pebble' to all in my family.... I know I know big deal....

— Mark Gomez (@MarkEG66) September 27, 2020
If Hollywood opinions mattered, Trump wouldn't be President.

— CHIZ 🇺🇸 (@CHIZMAGA) September 27, 2020
Remember when @TheRock had a heart to heart conversation with @realDonaldTrump and examined his policies? Me either. Guess Dwayne is just as phony now as every Hollywood kook. The truth is, like Biden, China owns him. Johnson makes hundreds of millions of $$$ off China.

— Chris Loesch (@ChrisLoesch) September 27, 2020
However, The Rock seems unphased by the hate, and hasn't yet responded, but still continued to post encouraging his followers to take a stand.
Many celebrities are making their views known in the run up to the election on Nov 3, including Billie Eilish who gave a speech at the Democratic National Convention in August declaring that "Donald Trump is destroying our country".
In the year of coronavirus, Black Lives Matter and the climate emergency, it seems like the A-List are finally putting their image aside, and focusing on how to make the US a better place - and with Donald Trump's dodgy tax returns hotting up the tension, it'll be a tight race at the voting booth on November 3.