Finn Wolfhard says he's "incredibly proud" of Noah Schnapp for coming out
23 January 2023, 17:07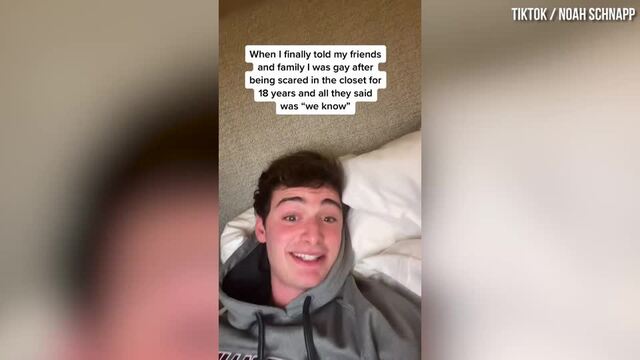 Noah Schnapp comes out as gay
Noah Schnapp came out as gay on TikTok earlier this year.
Finn Wolfhard has praised his Stranger Things co-star Noah Schnapp for coming out and said he's "incredibly proud" of him.
Earlier this month (Jan 5), Noah Schnapp publicly came out as gay in a TikTok video. The 18-year-old, who is best known for playing Will in Stranger Things, wrote: "When I finally told my friends and family I was gay after being scared in the closet for 18 years and all they said was 'we know'". He also captioned the video: "I guess I'm more similar to Will than I thought."
The video has since been viewed over 76 million times with many fans congratulating Noah in the comments. Now, Finn Wolfhard, who plays Mike in the series, and is close friends with Noah in real life, has joined in with the support.
READ MORE: Finn Wolfhard responds to Millie Bobby Brown calling him "a lousy kisser"
In a new interview with IndieWire, Finn was asked about Noah's coming out video and he had nothing but kind words for his on and off screen bestie. Discussing the TikTok video, Finn said: "I'm incredibly proud of Noah for coming out publicly like that. I think it was so incredible and brave."
In Stranger Things season 4, we learn that Noah's character Will is gay and secretly in love with Finn's character Mike. As it stands, Will is yet to come out in the show so IndieWire quizzed Finn on how they think Mike will react and whether or not their friendship will be affected at all.
Finn said: "As far as the Mike and Will relationship goes, I always found it kind of funny, especially last season of Mike just being so clueless. I would imagine Mike is going to be totally accepting of Will. I really want Will to have a really happy ending. And I think he will."
READ MORE: Noah Schnapp responds to criticism over Will's sexuality storyline in Stranger Things 4
Finn ended by teasing that all our fave Stranger Things characters could have happy endings in the show's final season.
He said: "What's going to be so awesome about season 5 is that the Duffers are sort of trying to thread this needle of trying to get every character to have their perfect ending. So I'm excited to see what ends up happening."
I need Stranger Things 5 and I need it now!
Stranger Things Cast vs. 'The Most Impossible Stranger Things Quiz' | PopBuzz Meets