Florence Pugh apologises for wearing cornrows and cultural appropriation
29 June 2020, 16:38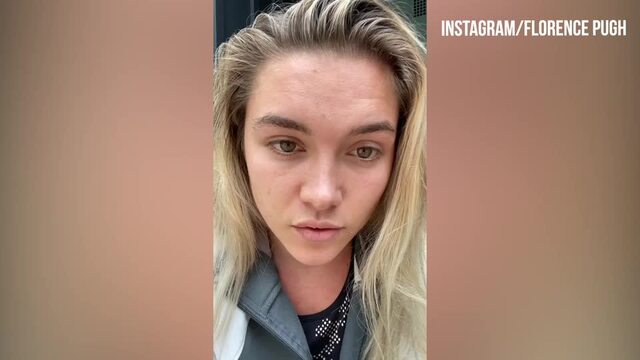 Florence Pugh slams trolls criticising the age difference between her and Zach Braff
"I apologize profusely that it took this long."
Florence Pugh has apologised for appropriating other cultures in the past, including times she wore a bindi, her hair in cornrows and sported a beanie "painted with the Jamaican flag colors".
As conversations about race appear to be at the forefront of everyone's minds, Florence decided to reflect on her own problematic behaviour in the past. The Little Women actress explained how her friend was the first person to explain cultural appropriation to her aged 17, when it was a trend for white women to get one side of their hair in cornrows.
READ MORE: Florence Pugh defends 21-year age difference with her boyfriend Zach Braff
"She began to explain to me what cultural appropriation was, the history and heartbreak over how when Black girls [wear cornrows] they're mocked and judged, but when white girls [wear] it, it's only then perceived as cool," she wrote. "It was true. I could see how Black culture was being so obviously exploited. I was defensive and confused, white fragility coming out plain and simple."
She added: "Growing up as white and privileged allowed me to get that far and not know... Stupid doesn't even cut it, I was uneducated. I was unread."
Florence then recalled wearing bindis, an ornamental symbol worn on the forehead in Hindu culture, and henna when it "became a trend" in summer 2017. Florence was then called out by a fan on Instagram in a separate incident for Rastafarian cultural appropriation.
"No one cared about the origin," she explained. "A culture was being abused for profit. I felt embarrassed...I actually wasn't being respectful in how I was using it. I wore this culture on my terms only, to parties [and] at dinner. I too was disrespecting the beauty of the religion that had been taught to me those years ago."
Florence finished the post by apologising for any offence caused. She continued: "I am truly sorry to all of you that were offended for years or even just recently.
"I cannot dismiss the actions I bought into years ago, but I believe that we who were blind to such things must acknowledge them and recognize them as our faults, our ignorance, and our white privilege, and I apologize profusely that it took this long."