Florence Pugh shuts down Will Pouter dating rumours in the most iconic way
25 May 2022, 11:24 | Updated: 25 May 2022, 11:47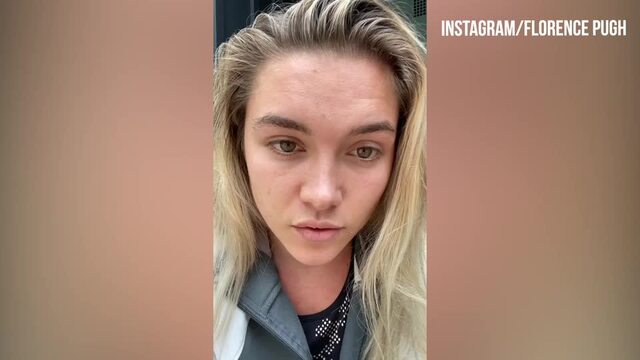 Florence Pugh slams trolls criticising the age difference between her and Zach Braff
Photos of Florence Pugh and Will Poulter at the beach together have gone viral online.
Florence Pugh has shut down rumours that she is dating her former Midsommar co-star Will Poulter in the most iconic way.
Earlier this week (May 23), paparazzi photos of Florence Pugh and Will Poulter at the beach together surfaced online. In the pics, Florence and Will can be seen walking around in swimwear and laughing. Florence also rubs suncream on Will's back in one image. As a result, people began to speculate that Florence had broken up with Zach Braff and started seeing Will.
Now, Florence has addressed the pictures and called out people for assuming that she and Will are in a relationship.
READ MORE: Florence Pugh defends 21-year age difference with her boyfriend Zach Braff
Taking to her Instagram stories last night (May 24), Florence wrote: "Ooookay. Man. This is getting a little silly now. No, Will Poulter and I are not dating. We went to the beach with our friends, who are always about half a metre away from us in every picture, but have been cleverly cut out/framed out so that it looks otherwise. You can LITERALLY see my best friend in the corner of so many shots and Archie's arms at the sides."
She then added: "I understand that the nature of this job is that you sometimes get your privacy completely bulldozed by paparazzi, but to fabricate this stuff actually does more damage than good. Thanks for saying we look sexy.. doesn't mean we're doing the sexy."
Florence then posted a series of photos pointing out how media outlets had manipulated images of her and Will.
In a separate story, Florence added: "On another note, a very important note. There's no need to drag people through this. Regardless of your opinion on who I should or shouldn't be with, at the end of the day if you're complimenting someone by trolling another person.. you're just bullying. There's literally no need to be horrible online- no need. Think about what you write. Think about who it affects."
Jinkx Monsoon Talks Her Iconic 'Drag Race' Return & Paints A Self-Portrait | Portrait Mode