Florence Pugh slams fans criticising age difference between her and boyfriend Zach Braff
9 April 2020, 12:15 | Updated: 9 April 2020, 14:06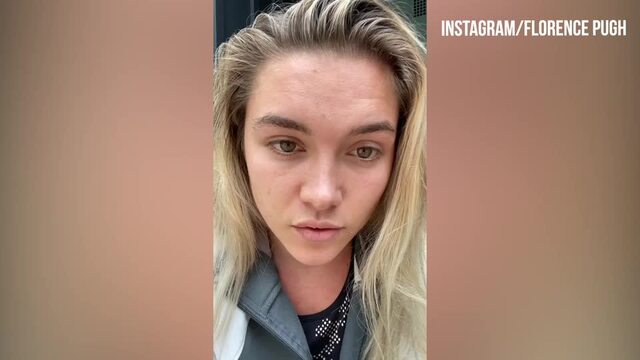 Florence Pugh slams trolls criticising the age difference between her and Zach Braff
Florence Pugh recently posted an image of boyfriend Zach Braff for his birthday but her comment section was full of people "hurling abuse" at him.
Let it be known: Florence Pugh, Academy award nominee, soon-to-be Marvel fan fave and Instagram chef, will not stand for your Zach Braff slander.
In case you didn't know, 24-year-old Florence is dating Zach Braff, who just recently turned 45. While that is their own business and nothing to do with me or you, a lot of people have been critical of their relationship.
READ MORE: Florence Pugh defends 21-year age difference with her boyfriend Zach Braff
Until recently, Florence has been pretty low-key about her relationship with Zach. The two of them have been spotted out and about in public, but they've never really shared their lives on social media.
A few days ago (April 6), Florence posted a birthday message for Zach and within minutes, her comment section was flooded with people criticising their age difference, hurling "abuse" and passing judgement on their relationship.
In a rare move, Florence has now taken to Instagram to directly call those people out in a three-minute long video.
In the clip she shared with her fans on Instagram, Florence said: "On Monday, I posted a photo in honour of Zach's birthday and I wrote a birthday message underneath. Within about eight minutes of the photo being posted, I had about 70% of the comments hurling abuse and being horrid, and basically bullying someone on my page."
While Florence didn't specifically address the age gap, she went on to slam those who think they have a right to comment on who she is dating.
"I'm 24 years old, I have been working since I was 17 years old, I have been earning money since I was 17 years old, I became an adult when I was 18-years-old and I started paying taxes when I was 18-years-old," she said. "I'll underline this fact, I am 24-years-old."
She continued: "I do not need you to tell me who I should and should not love, and I would never in my life ever tell anyone who they can and cannot love. It is not your place. And really it has nothing to do with you.
"The abuse that you throw at him, is abuse that you're throwing at me."
She ended the message by asking those who do not respect what she just said to unfollow her.
In response to Florence's video, Ariana Grande reposted the clip and opened up about the reason why she longer shares her personal life on social media. Writing on Instagram Stories, she said: "Sharing special, personal life things that make u [sic] happy on the internet can be traumatic. I know I've taken a step back from doing so to protect my loved ones and myself."
Now mind ya damn business.