Gigi Hadid confirms pregnancy in adorable Jimmy Fallon interview
1 May 2020, 11:49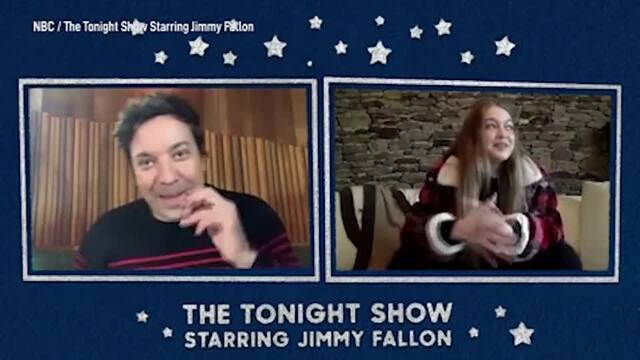 Gigi Hadid confirms she is pregnant with Zayn's baby
It's official! Gigi is expecting her first child with Zayn Malik. The couple first started dating in 2015.
Following reports that she and Zayn Malik were expecting their first child, Gigi Hadid has now confirmed that she is pregnant in a Zoom interview with Jimmy Fallon.
Speaking on The Tonight Show, Gigi was congratulated by Jimmy and thanked fans across the world for their well wishes, despite the fact that she had yet to officially confirm the news herself.
READ MORE: Liam Payne confirms One Direction reunion is happening without Zayn
"Obviously, we wish we could have announced it on our own terms but we're very excited and happy, and grateful for everyone's well wishes and support," she told the host.
Jimmy then went on to express his excitement, and gave her a few tips including the advice to "be present." Gigi took it on board, saying: "Especially during this time, it's nice silver lining to be able to be home and together, and really experience it day by day."
The news about Gigi's pregnancy broke shortly after she celebrated her 25th birthday at home in Pennsylvania with Zayn, her sister Bella Hadid, her mother Yolanda and a few other people who are living at the ranch during quarantine.
While TMZ has reported that Gigi is 20 weeks along and that the baby is a girl, Gigi did not disclose anymore details. Gigi's mum Yolanda told Dutch publication RTL Boulevard, that she was "excited to become an Oma in September."
Before Gigi confirmed the news, fans had managed to sleuth various clues as to whether or not her birthday party was actually a baby shower as well. A gift bag with the words 'hello little one' was spotted in Bella Hadid's Instagram story (covered by a sunflower emoji), and pink and blue strings were attached to her birthday balloons.
Since finding out, the entire internet has been living for the happy news. So, congrats to Gigi and Zayn! We're already shaking at how powerful this kid is gonna be!