Greyson Chance slams Ellen DeGeneres and calls her "manipulative" and "self-centered"
23 September 2022, 15:50 | Updated: 23 September 2022, 16:08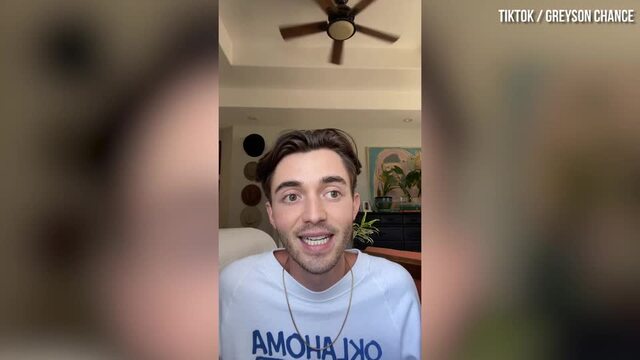 Greyson Chance calls out Ellen DeGeneres
Ellen DeGeneres signed Greyson Chance as a child star after his cover of Lady Gaga's 'Paparazzi' went viral on YouTube.
Greyson Chance has spoken out against Ellen DeGeneres.
The singer-songwriter, who shot to fame at the age of 12, first caught the attention of the talk show host after a video of his middle school performance of Lady Gaga's Paparazzi went viral on YouTube in 2010. The video currently has over 71.5 million views.
Now, 25-year-old Greyson has opened up about his experiences with Ellen in an exclusive interview with Rolling Stone.
"I've never met someone more manipulative, more self-centred, and more blatantly opportunistic than her," Greyson told the outlet.
READ MORE: Taylor Swift fans call out Ellen DeGeneres after sexist old interview goes viral on TikTok
Greyson remembers staff from The Ellen DeGeneres Show calling up his mum about a week after the life-changing Gaga performance, asking if her son would appear on the Los Angeles talk show the following day. "I remember her pulling my mom aside and saying, 'You're never going to have to work again a day in your life," he recalled.
After interviewing Greyson on her show for the first time in May 2010, Ellen gifted the sixth grader $10,000 and a new piano. Shortly after, she signed Greyson as her first act on her record label, eleveneleven. The label was defunct by 2012.
As Greyson's career took off, Ellen became "domineering and way too controlling". "My whole week, my whole month, my whole year could change [with] one text message from her," he said. "That was horrible."
Greyson notes one time in particular when Ellen was sent a video of a scheduled performance for a different network. She didn't like what she saw, he says, and made him and his team redo the entire thing. "If she had an opinion of any sort, the whole thing changed".
READ MORE: Greyson Chance comes out as gay after receiving message from a "brave individual"
Greyson Chance Singing Paparazzi (Lady Gaga)
A former employee on The Ellen DeGeneres Show who worked on the show during Greyson's rise to fame has also spoken out about the treatment Greyson received. They told Rolling Stone that it was "absolutely no surprise" that he may have experienced that sort of controlling behaviour from their ex-boss. They also branded their time working with her as "literally hell".
Greyson was dropped from Ellen's record label, and contact begin to wither. At 18, Greyson "retired" from music, attending college to study History, but it was "instinct" that drove him back to making and releasing music again.
Greyson returned to The Ellen DeGeneres Show in 2019 after the release of his single Shut Up. He recalled: "She came out during soundcheck and she looked at me, hugged me. And she said, 'How have you been?' And that just killed me inside because I was like, 'What do you mean how have I f-----g been? Where have you been?"
After his performance, the pair sat down for an interview in which Ellen praised Greyson for coming out as gay two years prior, telling him how proud she was of him. "She had nothing to do with that. … [When I came out,] I hadn't spoken to her in years… That's so messed up, that you're now showing the world as if we're so tight. We're so good. And behind the scenes, you are this insanely manipulative person."
One of Greyson Chance's Fans Inspired Him to Come Out
On September 22nd, Greyson took to TikTok to speak about the Rolling Stone interview, standing by everything he said against Ellen: "I've been wanting to tell this story now for multiple years and was repeatedly told not to. But the truth is that what you saw on TV and what was sort of pitched out, you know, to the mainstream just wasn't what was happening behind the scenes."
The singer then went on to say that he has had to wrestle with "so much of that PTSD" and trauma as he has been growing up and trying to make a name for himself in the music industry. He ends by saying that he is grateful for Ellen's effort and supports at the beginning of his career, but he is "more grateful to himself" for the bad moments and for picking up the pieces when things went wrong.
Rina Sawayama Reacts To "Industry Plant" Rumour and Paints A Self-Portrait | PopBuzz Meets