Jenna Ortega says she shaves her arms every day after being bullied for her body hair in school
1 February 2023, 11:37 | Updated: 3 March 2023, 15:21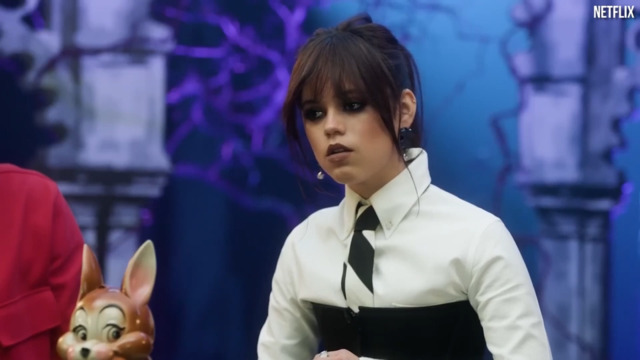 Jenna Ortega hates Dance Monkey
Jenna Ortega says that one of her "friends" told her that she had "gorilla arms".
Jenna Ortega has revealed that she shaves her arms every day after being told that she had "gorilla arms" in middle school.
We all have insecurities no matter how famous we are and now Jenna Ortega has opened up about some of hers. Appearing as a guest on Penn Badgley's PodCrushed podcast, Jenna discussed everything from her role in Wednesday to her time on You. Not to mention, she also got very candid about her experiences in middle school and what she was insecure about.
Talking to Penn and his co-hosts, Jenna explained that she was "very hairy" and was even bullied by a friend of hers for it.
READ MORE: Jenna Ortega reveals the one line she refused to say in Wednesday
Discussing her relationship with her body hair, Jenna said: "I was very hairy. I have dark hair. I'm Latina. I remember I was insecure about my leg hair but my arm hair more. There was a girl who I was "friends" with who told me that I had gorilla arms. It's what she would call them because I just had really long arm hair."
She then let slip that this led her to take action. Jenna said: "So when I was in sixth grade, my mum finally allowed me to shave my legs. When I came out of the bathroom, she realised that I had shaved my arms as well."
Jenna revealed that her mum was angry that she shaved her arms as well. However, Jenna said that she couldn't help it because she was so insecure about them.
Jenna ended by saying: "It was just such a deep insecurity of mine and nobody ever addressed it again but, still to this day, every single day, I shave my arms. If there's even stubble, if there's anything, I get really insecure about it."
A reminder that there's nothing wrong with hairy arms! We love you Jenna!
Read more Jenna Ortega news here:
Teen Wolf Movie Cast vs. 'The Most Impossible Teen Wolf Quiz' | PopBuzz Meets