Jennifer Lawrence sets records straight on Liam Hemsworth cheating rumours
28 June 2023, 15:26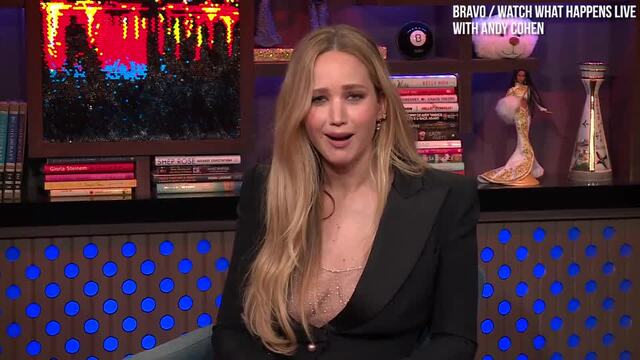 Jennifer Lawrence reacts to rumour she will appear in The Hunger Games prequel
Miley Cyrus' gold dress in the 'Flowers' music video prompted a wave of false rumours that Jennifer and Liam got together while he was in a relationship with Miley.
Jennifer Lawrence has spoken! Those Liam Hemsworth affair rumours that popped up after Miley Cyrus released 'Flowers'? NOT! TRUE!
Back in January, Miley dropped her certified banger 'Flowers', and the lyrics appeared to reference her relationship with ex-fiancé Liam Hemsworth. Fans also believed that the video had even more cryptic references and secret nods about their time together.
One of those details was the fact that Miley wore a gold dress in the video. It didn't take fans long to link the dress to Jennifer Lawrence, who wore a memorable gold dress to the Hunger Games premiere in 2012.
But why and how did Jennifer Lawrence end up being mentioned in all the wild theories? It all stems from a 2015 interview clip where she admitted that she once kissed Liam Hemsworth off-screen.
Now, J Law herself has finally shut down the rumours that she had an affair with Liam, and set the record straight. Officially.
Speaking to host Andy Cohen on Watch What Happens Live while promoting her new film No Hard Feelings, Jennifer sat down to play Plead The Fifth and ended up responding to the speculation and false rumours.
Jennifer cleared the whole thing up immediately, saying: "Not true. I would love to [respond], it's not true. Total rumour."
"I mean, we all know that me and Liam kissed one time," Jennifer then confessed. "It was years after they broke up. So I just assume that was a coincidence."
After Andy thanked Jennifer for clearing the whole thing up, Jennifer responded; "Yeah, I'm happy to!"
Back in 2015, on Watch What Happens Live, Jennifer previously admitted to sharing an off-screen kiss with Liam way back in the day. She told Andy at the time: "Liam and I grew up together. Liam's real hot, what would you have done? Yeah."
But now, the rumour has officially been debunked. You can all carry on with your lives...
Read more about Jennifer Lawrence here:
Leigh-Anne Picks Her Own Interview Questions | PopBuzz Meets