Joe Jonas just got a new tattoo of Sophie Turner on his neck
14 October 2020, 11:53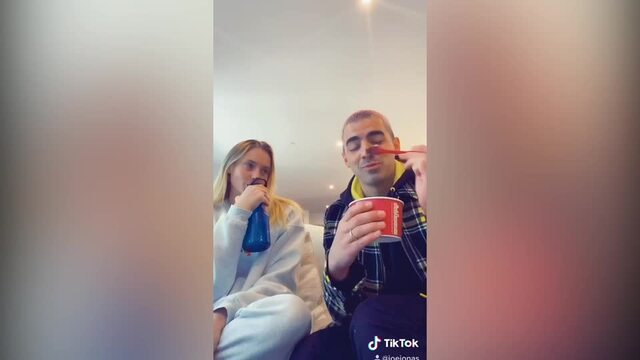 Joe Jonas and Sophie Turner lip-sync to Kylie Jenner's Wasted song on TikTok
It's a conversation starter, that's for sure.
Joe Jonas has just revealed a new tattoo dedicated to his wife Sophie Turner on his neck.
The 'Sucker' singer married the Game of Thrones actress last year after announcing their engagement in October 2017. In July, they welcomed their first child, a baby girl, named Willa.
On Tuesday (Oct 13), the Jonas Brothers star shared a photo of his new ink on Instagram Stories. The tattoo is the work of Los Angeles-based artist Nal and is a keyhole on the back of Joe's neck with a sliver of Sophie's eye and lip peeking out.
READ MORE: Joe Jonas has dyed his hair platinum blonde and it looks HOT
The tattoo is in the style of Italian artist Piero Fornasetti, known for his creative and surreal style. Joe actually has three other Fornasetti-style portrait tattoos of iconic opera singer Lina Cavalieri.
And, although Joe didn't say it was Sophie in the keyhole, the resemblance is uncanny and fans couldn't help but notice the similarities. "This has to be Sophie's eye, right?" one asked. Another commented: "If Sophie's eye is the lock then Willa's eyes must be a key, @joejonas get another tattoo done."
Now, we don't know if Sophie has returned the favour and had a tattoo of Joe done, but the couple already have matching inkings. In July 2019, Sophie and Joe got matching portrait tattoos of their beloved dog Waldo Picasso after he was tragically killed in a car accident. Later that year, they also both had Buzz Lightyear's famous line: "To infinity and beyond," tattooed on their wrists.
READ MORE: QUIZ: Which Jonas Brother should be your boyfriend?
What do you think of Joe Jonas' new tattoo? Tweet us @popbuzz and let us know!