JoJo Siwa reacts to brutal video of Abby Lee Miller shouting at her on Dance Moms
12 January 2023, 17:09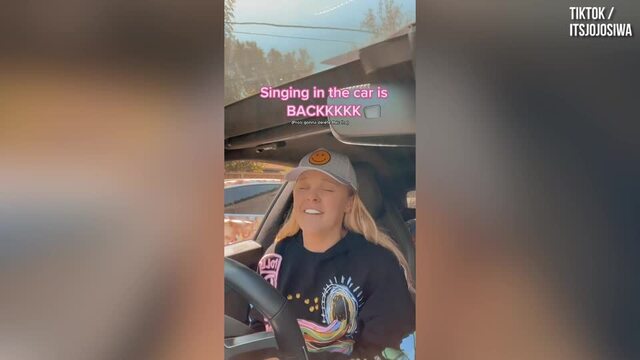 JoJo Siwa claps back at accusations she can't sing
"The manipulation and hate that all of you went through is horrific! So happy to see you on top and thriving!"
JoJo Siwa fans have reacted with horror after JoJo reacted to a montage of the mean comments and bullying she received while starring on Dance Moms.
Dance Moms followed dance studio owner Abby Lee Miller as she helped young students become professional-level dancers and compete nationally. JoJo appeared on the show from 2015 to 2016, and one series of Abby's Ultimate Dance Competition in 2013.
Abby had a reputation for her brutal criticism of the girls, and JoJo's most recent TikTok reveals exactly why. Some of the more upsetting moments that JoJo reacts to include a clip where Abby asked the other young dancers to say – in front of JoJo and everyone else in the room – why JoJo doesn't deserve to be part of Abby's dance company. A young JoJo cries as the girls list all the reasons she should be kicked out of the company.
There's another scene where a clearly distressed JoJo is seen crying and whispering under her breath that "Abby is going to kill me." One moment also shows Abby screaming "She deserves nothing!" at JoJo, who is standing there in tears.
In the comments of JoJo's duet video, fans could not believe some of the abuse she received, especially from the adults involved.
One person wrote: "As a mom, I'd be throwing hands." Another person added: "As a mother, I don't get how ANY of these women allowed kids to do this. HOW!?"
TikToker Zachariah also wrote: "The manipulation and hate that all of you went through is horrific! So happy to see you on top and thriving! You are so strong!"
Others also pointed out that despite all of it, JoJo has now become massively successful after building her own billion dollar brand. "That sweet girl turned all that trauma into so much success," TikToker Amy Pohl wrote.
While you might think JoJo must hate Abby for all the torture she put her through, turns out its the complete opposite. According to an interview with ET Online in October last year, Abby said the two are on good terms and they text a lot.
JoJo has also previously defended Abby, saying: "It makes me really, really upset that I am one of the few -- there's only a few people -- that really, truly thank Abby, and are thankful and grateful for what she's done for us. Because without her, Dance Moms wouldn't be a thing."
Read more JoJo Siwa news here:
Glass Onion Cast Take On A Chaotic Mystery Interview | PopBuzz Meets