JoJo Siwa shuts down pregnancy rumours in hilarious TikTok video
27 March 2023, 12:41 | Updated: 30 March 2023, 15:42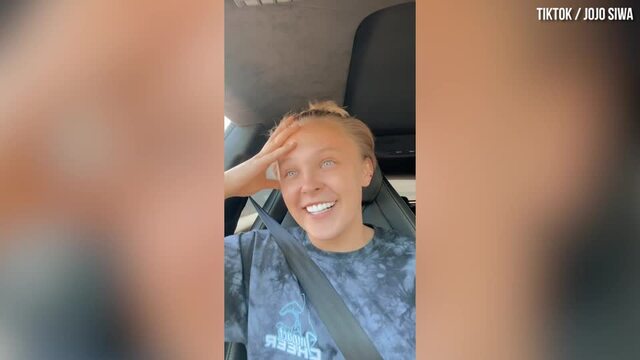 JoJo Siwa reacts to TikTok thinking she's pregnant
"Can't believe it"
Is JoJo Siwa pregnant? The answer is officially no but the reason why everyone thought JoJo is pregnant is pretty hilarious.
Back in June 2020, multiple TikTok videos went viral reporting that JoJo was pregnant. The videos all claimed that JoJo had posted a positive pregnancy test on her Instagram page. Responding to the rumours, JoJo posted her own TikTok video in which she said: "Apparently I'm pregnant. God, I love TikTok." The video has since been viewed over 44.4 million times.
READ MORE: JoJo Siwa accused of being "insensitive" after repeatedly pretending to be pregnant
Now, the rumours are going viral all over again and it's all because JoJo addressed them again with a new Snapchat post.
Is JoJo Siwa pregnant?
If you've been on TikTok lately you will have likely noticed that "JoJo Siwa pregnancy announcement" has become a related search term on all of her videos. The reason why is because JoJo documented went on a shopping trip recently and took to Snapchat to share photos of some kids clothes she's bought as a present for a friend.
As a joke, JoJo uploaded a photo of herself with her hand over her stomach with the caption "Can't believe it".
Obviously JoJo was just trolling but some people didn't realise she was just joking and a screen grab of her Snapchat photo went viral on Facebook. And then suddenly the whole world wanted to know if the photo was real or not.
JoJo has now addressed the rumours on her TikTok, stitching a video of herself to the Facebook photo, reacting in disbelief to the rumour and how much conversation the fake pregnancy has caused.
Ever the troll, JoJo has now posted even more Snapchat photos joking that she is expecting a baby. In conclusion, JoJo loves a prank and she is definitely not pregnant.
Read more JoJo Siwa stories here:
Sabrina Carpenter vs. 'The Most Impossible Sabrina Carpenter Quiz' | PopBuzz Meets