Justin Bieber wishes he hadn't had sex before marriage
18 May 2020, 15:41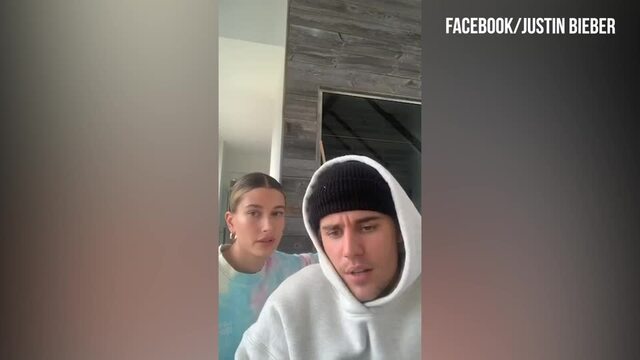 Justin Bieber says he wishes he hadn't had sex before marriage
Justin Bieber took to his new live stream chat show on Facebook watch, "The Biebers" to discuss sex before marriage, and why he wishes he'd chosen to stay celibate.
Justin Bieber has admitted he wished he'd stayed celibate until his marriage to Hailey Baldwin as he got candid during their new Facebook Watch show, The Biebers.
The live-stream series which has so far seen the couple give an insight into their home life during lockdown as well as a fan Q&A, quickly saw conversation turn to married life and navigating a new way of living after they had previous history together before taking a break, and then eventually tying the knot.
Hailey admitted that she had been "ridden with guilt" for the first few months of their marriage as she wasn't the "goody two-shoes good girl" the world expected her to be, and husband Justin admitted that off the back of his struggle with addiction and anxiety as well as Lyme disease, he'd stayed celibate until the pair got married.
READ MORE: Justin Bieber opens up about his 'crazy' sex life in 'Take It Out On Me' lyrics
Justin, who has previously dated the likes of Selena Gomez and Hailey's close model friend Kendall Jenner, opened up about how "sex can be kind of confusing when you're being sexually active with anybody" and he added: "[I wish I did] not have to face some of the bad hurt that I went through", speaking of his off-the-hook living at the height of his fame when he was so young and in previous very public relationships.
However, 23-year-old Hailey seemed to disagree when she added: "I don't know if I'd say the same, but we had different experiences with everything. I do agree with the fact that being physical sometimes can make things more confusing."
She's previously spoken openly about being compared to his exes, saying: "It's definitely not easy. Justin knows I have a hard time with the things people say and the way people make comparisons, the way they have made me feel like less of a woman."
The model even admitted that she wasn't sure she wanted to be with Justin when they got married as he was known between their mutual friends as a f**kboy and it was only when people convinced her that he was working on himself that she decided to give their relationship another shot.
Speaking on behalf of all of the didn't-quite-get-to-be-the-one-less-lonely-girls in the world, you made a good choice Hailey.
READ MORE: Selena Gomez responds to Hailey Bieber "diss" over Lose You to Love Me