Kat Von D says her parents sent her to an institution for listening to punk music
8 October 2020, 17:30 | Updated: 9 October 2020, 11:57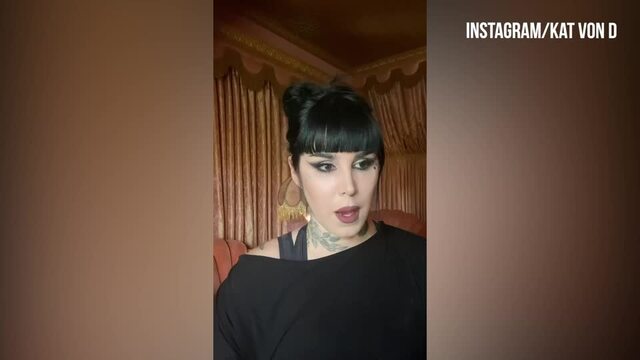 Kat Von D says she was "kidnapped and locked up" at the same institution as Paris Hilton
Kat believes her "traumatic six months" at Provo Canyon School – where Paris Hilton also attended – ultimately led to her developing PTSD and her addiction issues.
Kat Von D has detailed her traumatic experiences at the Provo Canyon School in Utah, the same school Paris Hilton attended, where they both experienced abuse.
Provo Canyon School featured in This is Paris, Paris' tell-all YouTube documentary which was released in September. The doc detailed the alleged physical and mental abuse she experienced at the school, which included being beaten, drugged and sent to solitary confinement. Paris was there for 11 months and left when she turned 18.
In a 24-minute Instagram video, Kat has now said that she attended the same school, or "lockdown facility" as she called it, between the ages of 15 and 16 where she sadly experienced abuse too. After watching Paris' doc she said she was triggered and knew she had to speak out.
READ MORE: Paris Hilton documentary encourages survivors of teen correctional facilities to come forward
"I spent those six traumatic months of my teenage years, only to leave with major PTSD and other traumas due to the unregulated, unethical, and abusive protocols of this 'school'," she began.
Kat said her conservative parents sent her to Provo Canyon School after she dropped out of high school and started taking an interest in tattooing. A family therapist actually recommended the facility to her parents.
She added: "I think my parents were very worried about me once I started listening to punk rock music and started to look a little bit different than the other kids at school or at church. It just raised a lot of red flags for them. I think that they were just terrified that I was going down the wrong path."
The Miami Ink star went on to explain how she was "kidnapped", threatened and blindfolded, before being put onto a plane to the school. When she arrived, she gave blood, stool and urine samples, and she was then told by a counsellor that she had contracted HIV from her tattoo work, which she believed at the time. Kat now thinks it was used as a "scare tactic" to make her to stop tattooing.
Like Paris' account of what happened at Provo Canyon, Kat revealed she saw people being force-fed medication but luckily she was never had to endure the sexual and physical abuse that others had reported.
Kat said that the six month spent at Provo Canyon left her with severe PTSD and it became "the root" of her future alcoholism and drug use as she started drinking bottles and bottles of whiskey to cope with trauma. Kat is now openly sober and has been for 13 years.