Katy Perry's Russell Brand comments resurface following sexual assault allegations
18 September 2023, 15:21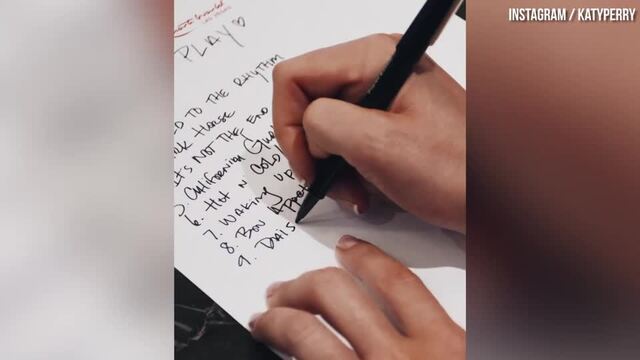 Katy Perry reveals setlist for Las Vegas residency
Katy Perry's 2013 Vogue interview has resurfaced amid the recent Russell Brand allegations. [CW: Sexual assault]
CONTENT WARNING: This story mentions sexual assault.
Following the recent sexual assault allegations made against Russell Brand, Katy Perry's comments about their divorce from a 2013 interview are now going viral.
Over the weekend (Sept 16), British comedian Russell was accused of rape, sexual assault and emotional abuse by four women. The claims were made in a joint investigation by The Sunday Times, The Times and Channel 4's Dispatches.
Russell has denied all the allegations, saying his past relationships have been "absolutely always consensual".
Now, Katy's 2013 interview with Vogue has resurfaced because of what she says about Russell when asked about her divorce from him.
In the interview, Katy explains that she initially blamed herself for their divorce, until she "found out the real truth" about the man.
She said: "At first when I met him he wanted an equal, and I think a lot of times strong men do want an equal, but then they get that equal and they're like, 'I can't handle the equalness.' He didn't like the atmosphere of me being the boss on tour. So that was really hurtful, and it was very controlling, which was upsetting."
She continued: "I felt a lot of responsibility for it ending, but then I found out the real truth, which I can't necessarily disclose because I keep it locked in my safe for a rainy day."
"I let go and I was like, 'This isn't because of me; this is beyond me.' So I have moved on from that."
Katy and Russell were married for 14 months. They tied the knot in 2010, with Russell later splitting with Katy via a text message on December 31st 2011, just minutes before she was set to perform on stage.
Katy's heartbreaking reaction to that text was later shown in her Part of Me documentary.
Katy has not commented on any of the current allegations surrounding Russell.
If you, or someone you know, is a survivor of sexual assault, the following organisations may be able to help:
Olivia Rodrigo vs. 'The Most Impossible Olivia Rodrigo Quiz' | PopBuzz Meets