Khloé Kardashian denies claims she uses a diabetes drug to lose weight
6 January 2023, 15:57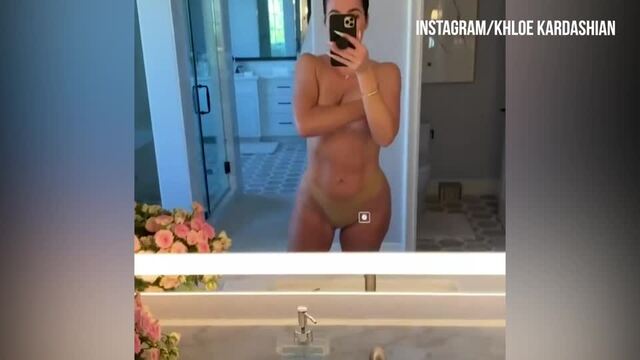 Khloe Kardashian shows off her natural body after unedited bikini photo leaks
"Let's not discredit my years of working out. I get up 5 days a week at 6am to train."
Khloé Kardashian has shut down a recent viral rumour that she uses Ozempic, a prescription diabetes drug, to lose weight.
If you've been anywhere near TikTok lately, you will have probably seen videos claiming that Ozempic can be used as a way to lose weight. The diabetes drug helps people with Type 2 diabetes manage their blood sugar levels. However, it's also been used as a weight loss method in Hollywood and, last year, comedian Heather McDonald suggested that the Kardashians use it.
Discussing Ozempic on her Juicy Scoop podcast, Heather said: "A lot of people are wondering, 'What are the Kardashians using where they had such rapid weight loss and dropped it so quick and their bodies completely transformed?" It wasn't long before the rumour spread online with many people assuming that Kim Kardashian and Khloé Kardashian use it.
Now, Khloé has responded to the allegations that she uses Ozempic and opened up about her actual weight loss methods.
READ MORE: Khloé Kardashian denies claims she uses a diabetes drug to lose weight
Earlier this week (Jan 4), Khloé posted photos from her recent Sorbet magazine cover shoot and it wasn't long before people began commenting on her weight. Not only that but people began referencing the rumours that Khloé uses Ozempic to stay skinny. One person wrote: "The fact she uses dibetic [sic] medication to get this skinny is disturbing."
Noticing the comment, Khloé clapped back and shut down "assumptions" that she uses a weight loss drug. Responding to the ongoing viral rumour, Khloé wrote: "Let's not discredit my years of working out. I get up 5 days a week at 6am to train. Please stop with your assumptions. I guess new year still means mean people."
Fans of The Kardashians will already know that Khloé regularly spends time in the gym and often documents her workouts on the show and social media. She even opened up about her weight loss in her controversial 2017 show Revenge Body and her book Strong Looks Better Naked.
Elsewhere, Khloé clapped back at comments suggesting that she had had more cosmetic surgery done ahead of the shoot.
Khloé captioned the post: "I wore clip-on bangs for this shoot. It was fun to give a different look and not be committed. I am surprised with how much I liked the bangs even though they changed the shape of my face. Would you ever get bangs?" In the comments, people wrote: "I don't think it was the bangs that changed your face" and "Literally who is that??"
Responding, Khloé wrote: "I openly talk about my nose job and anyone who 'looks up' to me must know I've lost over 60 pounds over the years. So recently the only change is the bangs. I didn't know I had to do a running list."
Khloé ended her comment by writing: "Either way, attacking someone is sad in my opinion. Unprovoked is the saddest part. If you are offended or don't like what you see, you simply don't have to say anything. I hope you have a great first week of the new year. Thanks for making mine so jolly."
Read more Khloe Kardashian stories here:
Glass Onion Cast Take On A Chaotic Mystery Interview | PopBuzz Meets