Kim Kardashian does hilarious British girl makeup trend on TikTok
18 January 2023, 14:11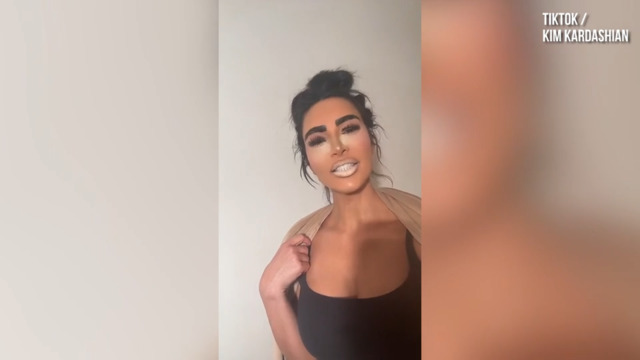 Kim Kardashian does viral Essex girl makeup trend
Kim Kardashian is giving The Only Way is Essex with her new look.
Kim Kardashian has taken over TikTok again and it's all thanks to a new video in which she does a British girl makeup trend.
Kim Kardashian is no stranger to changing up her style. Over the course of her career to date, Kim has traded in her original LA glam for a much more high-fashion aesthetic (RIP Dash). Not to mention, the 42-year-old business icon routinely makes headlines with everything from her makeup choices to her Met Gala outfits. This is Kimberly's world and we're living in it.
However, one style Kim hasn't tried out so far is a traditional Essex girl look and now she's given it her best shot on TikTok.
READ MORE: Kim Kardashian allegedly staged being hit with a flour bomb on the red carpet
Taking to TikTok today (Jan 18), Kim uploaded a video in which she does the Essex girl makeup trend. For those of you who don't know, an Essex girl look usually features a lot of orange foundation, painted brows and big fake eyelashes. This has since become a viral trend with many people trying to recreate the look while lip-synching to Millie B's 'M to the B'.
Over the course of 15 seconds, Kim transforms from her everyday look into an aesthetic worthy of The Only Way Is Essex. As it stands, the video has been viewed over 9 million times and liked over 1.4 million times. Kim's comments have been turned off but it's safe to say that, if she ever fancies going full Essex with her look, we will be stanning.
Kim Kardashian and Gemma Collins collab when?
Margot Robbie & Diego Calva Pick Their Own Interview Questions | Babylon | PopBuzz Meets