Kim Kardashian allegedly staged being hit with a flour bomb on the red carpet
10 January 2023, 16:11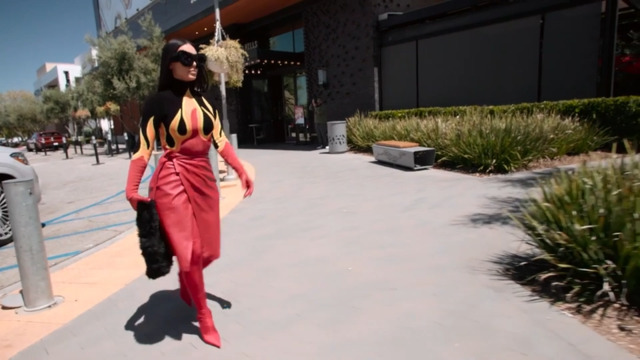 Kim Kardashian addresses backlash to her flame outfit in The Kardashians episode 7
Sheeraz Hasan claims that Kim faked the incident in a bid to make headlines and promote her new perfume.
Kim Kardashian's former media strategist has claimed that the time that she was flour bombed on a red carpet was staged.
In 2012, Kim Kardashian was flour bombed at the red carpet launch of her True Reflection perfume. While posing for photos, a woman threw flour all over Kim. The assailant was later caught and arrested. However, Kim decided not to press charges. After the incident, Kim told E! Online: "That probably is the craziest, unexpected, weird thing that ever happened to me."
Meanwhile, Kim's sisters also took to Twitter to defend her. Kourtney wrote: "I wonder if they would have dared thrown the flour at my hormonal and pregnant self!" Khloé then tweeted: "I wish I was with my sister tonight. I bet you that woman wouldn't have dared tried a thing." Celebrities including presenter Giuliana Rancic also tweeted in support of Kim.
Now, Sheeraz Hasan, who used to work for Kim, has said that the incident was fake and set up to create a media moment.
READ MORE: Kim Kardashian just told North West about the night she was conceived
In the new Channel 4 documentary, The Kardashians: Billion Dollar Dynasty, celebrity media strategist Sheeraz Hasan claims that Kim helped plan the stunt in a bid to make headlines and help publicise her perfume. He says that he asked Kim if she was "willing to get flour bombed" at the event and says that she agreed to it.
Sheeraz stated that he told Kim: "OK, this is what's going to happen, you're going to be fine, you're going to be safe, but we're going to create a media moment. If we create media gold, guess what's going to happen? Everyone's going to be talking about your perfume, everyone's going to buy it."
As to whether or not Kris and Kim's sisters were aware of the plan, Sheeraz said: "Of course, they're in on it."
Sheeraz previously opened up about his relationship with Kim in 2020's Celebrity: A 21st Century Story. He said: "One of the first things she said to me when we met was, 'Sheeraz, I want to be one of the most famous people in the world. If you're in the business of fame, you need to be a narcissist. You need some serious self-belief and that's what her X-factor was."
Discussing Kim's strategy to become famous, Sheeraz continued: "Why a nail salon? Because that's where celebrities were getting their nails done. Why did she go on a specific plane? Because there would be a specific person sitting next to her. Why did she go to a restaurant? There's no why, it's all strategy."
He said: "Back then there was no way of promoting or expanding yourself in a social media way, but we had paparazzi, we had breaking news, we were leveraging other celebrities. But more importantly, Kim Kardashian listened. She had a plan, she focused and she wouldn't hear the word 'no.'"
As it stands, Kim is yet to respond to Sheeraz's claims about the flour bomb incident. We shall update you if she does.
Glass Onion Cast Take On A Chaotic Mystery Interview | PopBuzz Meets