Kourtney Kardashian brands Kim a "narcissist" in explosive phone call argument
28 September 2023, 11:59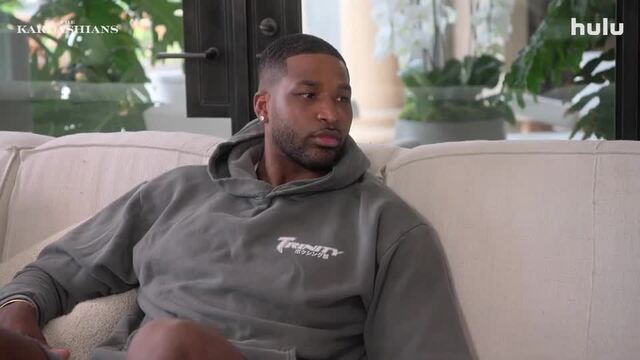 Watch the trailer for The Kardashians Season 4
In a brutal phone call, Kim reveals that Kourtney's kids come to her with "problems that they have" about their own mum.
The girls are fightingggg! Kim Kardashian and Kourtney Kardashian Barker are at it again – and yes, they're still arguing about Kourtney's extravagant Dolce & Gabbana-themed Italian wedding.
If you've been a loyal viewer of The Kardashians/Keeping Up With The Kardashians over the years, you'll know that Kim and Kourtney's relationship has been quite rocky.
The sisters have often clashed throughout the history of the family's reality show, including one fight that turned physical. They've usually managed to patch things up afterwards, but recent events seem to have really divided the two.
Kim and Kourtney's latest feud about Kourt's wedding to Travis Barker has only gotten worse after Kourtney accused Kim of copying her Dolce aesthetic and using it as a business opportunity for a new campaign. Kim then accused Kourtney of copying her Italian wedding.
After seemingly hashing out their issues at the end of season 3, the whole thing has now spiralled into a huge falling out after Kourtney watched the edit of the show and discovered all the stuff that had been said about her.
In the first episode of The Kardashians season 4, Kim and Kourtney came to blows on a brutal and explosive phone call that ended with Kourtney in tears.
In the episode, Kim reaches out to Kourtney to see if she wants to come with her to a Dolce event for her collection. While Kourtney is supportive, she declines and explains that she really just doesn't wanna be around her or the family.
The conversation then quickly turns to Kim absolutely slating Kourtney's entire wedding aesthetic, while Kourtney accuses her of being "egotistical," "narcissistic," and jealous.
"I think it's that you saw this thing that was mine and that wasn't yours, and that you wanted it," Kourtney says. "And you took it and made it bigger."
Kim then replies: "No, that's where I think you're wrong. If anything, I don't like– And I told Khloe– I don't like your look, I don't like this... If it was visually, it was not my thing and I tried everything to stay away from that."
Kourtney then absolutely lays into Kim, saying she's missing the point by dismissing it as an issue with the fashion choices.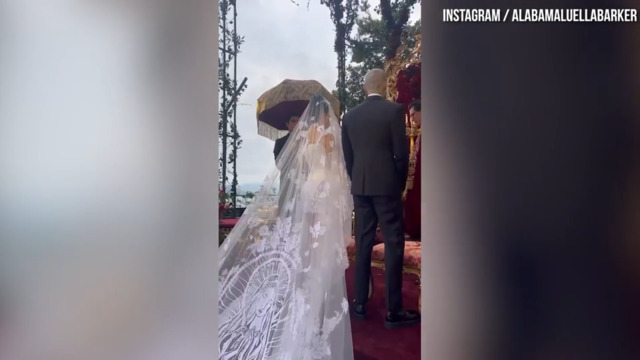 Alabama Barker shares intimate glimpse at Kourtney and Travis' wedding
"You're talking about the bullshit details cause it's all your egotistic selfish mind can think about," Kourtney rips. "You cannot stand someone else being the centre of attention. You came to my wedding, you couldn't be happy, you complained from the second you got there 'til the second you left."
"Forget about 'you couldn't be happy', you could be happy for me. You couldn't be happy that I was the centre of attention and you weren't."
When Kourtney tells Kim to "dig deep" and figure out why she's feeling this way, Kim replies: "No. I want you to dip deep and figure out why you, why you hate me so much and why you're so angry with me because all of this never happened. I was so happy for you."
"You are a narcissist. It is all about you. Anything you do, it's about you and about how it looks to the world about you," Kourtney later adds.
Despite expressing concern that her sister is "not happy", Kim then takes it a step further, telling Kourtney that the entire family talks about how different she is, and how all of Kourtney's friends and family have a group chat without her in it so they can talk about her behind her back.
"I have a happy life and the happiness comes when I get the fuck away from you guys, like... specifcally you," Kourtney fires back.
As the conversation heats back up, Kim drops the bombshell that Kourtney's kids often come to her with "problems that they have, and how you are."
"Is that helpful?" a now-tearful Kourtney responds. "You're like adding it in to a fight to have a side. It's you, and my friends., and my kids, and everyone against me. It's like, you're just a fucking witch and I fucking hate you."
Later, while sitting next to Kim in a confessional, Kourtney accused Kim of "weaponising" everyone in her life in a bid to hurt her. She added that it reminded her of a characteristic that the Kardashian family do where they say mean things to hurt each other.
"Like, why would my family treat me that way? And then I want to protect my energy and be around positivity and good vibes."
Read more Kardashian/Jenner news here:
Ashnikko Breaks Down 'Weedkiller' Track By Track | Making The Album