Kim Kardashian broke social distancing rules to get Kylie Jenner to do her makeup
1 April 2020, 12:13 | Updated: 26 January 2022, 19:43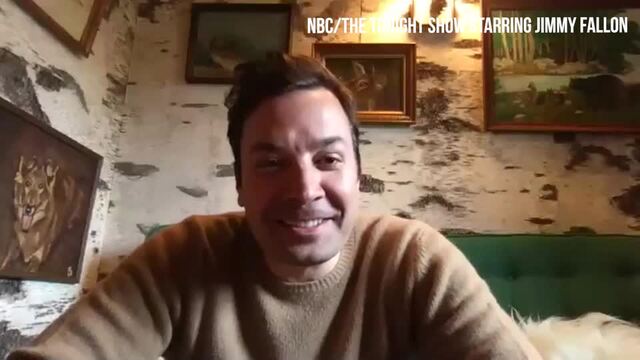 Kim Kardashian reveals she broke social-distancing rules to get Kylie Jenner to do her makeup
Kim Kardashian let slip the news when she appeared on The Tonight Show with Jimmy Fallon to discuss coronavirus.
Kim Kardashian just revealed that she ignored social distancing rules to get Kylie Jenner to do her makeup for Jimmy Fallon.
Ever since coronavirus became a global crisis, governments and health providers all around the world have encouraged, and in many cases enforced, strict social distancing rules. In the UK for example, there is currently a lockdown which means that people are only able to leave the house for groceries, exercise and work. Visits to go see friends and family are not allowed.
READ MORE: Kourtney Kardashian deletes Mason's Instagram after he posted about Kylie Jenner's private life
By practising social distancing and staying at home, we are able to help stop coronavirus spreading so quickly and, in doing so, make it easier for hospitals to cope with the number of patients suffering from the illness. People, including celebrities, are taking the measures seriously. However, Kim Kardashian just let slip that she broke the rules to be on Jimmy Fallon.
Due to coronavirus, many talk shows are now continuing to run by filming their interviews, segments and even performances separately from home, using features like Instagram Live and Zoom. Last night (Apr 1), Kim Kardashian appeared as a guest on The Tonight Show with Jimmy Fallon but, unlike Jimmy, she didn't film herself from her own home in Calabasas.
When Jimmy asked where Kim was, she explained: "I'm in my mom's glam room. Kylie did my makeup and my hair. I don't have anyone to do it and I'm not that good so she did all my makeup. I was so impressed and that's the first time I've seen her - 'cause we, the whole family is distancing, so we haven't even seen each other."
She then added: "So I snuck out and I'm at my mom's house in her glam room because there's a door from the outside so this is all she'll let us in. And I had to get away from my kids. I'm hiding from them."
In other words, Kim and Kylie briefly broke the social distancing rules for makeup purposes.
Kim Kardashian West Reveals Her Kids-Free Social Distancing Hideout
It's obviously good to hear that Kim and her family have been taking social distancing seriously but, even small visits like her one with Kylie, can have negative effects. Everyone wants to see their families right now and, if everyone breaks the rules, we won't be able to flatten the curve.
What do you think? Have you been social distancing?