Kim Kardashian and Pete Davidson spotted holding hands and the internet can't deal
1 November 2021, 13:53 | Updated: 26 January 2022, 19:34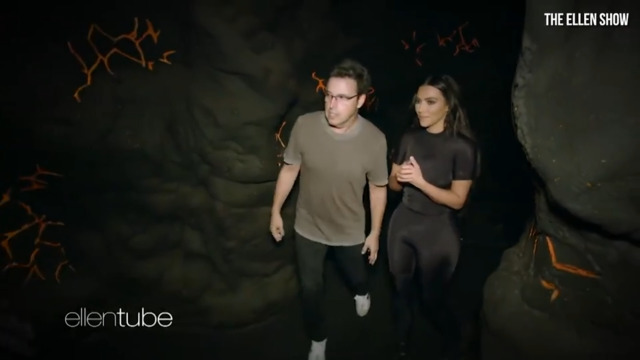 Kim Kardashian walks through a haunted house
Are Kim Kardashian and Pete Davidson dating? Here's what we know about their relationship.
Kim Kardashian and Pete Davidson have been photographed holding hands and the internet is losing it over the cute pics.
Kim Kardashian and Pete Davidson aren't two names you'd necessarily associate together. Kim, as we all know, is a reality TV icon turned billionaire mogul, and Pete Davidson is best known as one of the cast members of Saturday Night Live. It's unclear how often the celebrities have crossed paths but they spent Halloween together at Knott's Scary Farm this year.
READ MORE: Kim Kardashian says North West insults her house when they argue and I'm cackling
Now, People has published photographs of Kim and Pete holding hands. Are they in a relationship though or just friends?
According to People magazine, in spite of how intimate the photos may appear, Kim and Pete are just friends. A source told People: "They hang in the same circles so they will be together from time to time. It's just friends hanging out." Kim actually played Pete's lover in a Jasmine and Aladdin-inspired sketch on SNL last month (Oct 10) and they shared a kiss for it.
However, the internet isn't quite so sure. Kim and Pete went to Knott's Scary Farm with Kim's sister Kourtney and her new fiancé, Blink-182 drummer Travis Barker. People think that Kim and Pete went on a double date with Kourtney and Travis.
Reacting to the possible relationship, one person tweeted: "Did not see that coming!" and another person added: "the possibility of kim kardashian and pete davidson being together…we're really living in unprecedented times."
today, all of my thoughts go to the random person who will be immortalized forever in this viral photo of Pete Davidson and Kim Kardashian holding hands at Knott's Scary Farm pic.twitter.com/JNDHBKsddG

— 𝘁𝗶𝗺 𝗯𝗮𝗿𝗻𝗲𝘀 (@TimBarnes451) October 31, 2021
As it stands, Kim and Pete are yet to say anything concrete on the matter. We shall update you if and when they do.
On the podcast this week we're joined by Mia from Pom Pom Squad and Phoenix from Softcult. In this episode, Mia and Phoenix talk about their experiences with homeschooling, who they first came out to, why hardcore scenes thrive in small towns, making connections with other queer people through music, falling in love with your best friend and being mistaken for the "straight best friend" in a gay club. Listen below and subscribe by hitting the image after the jump.