Kim Kardashian roasts Kendall Jenner's love life with NBA ex-boyfriend t-shirt
28 April 2023, 11:33 | Updated: 28 April 2023, 14:17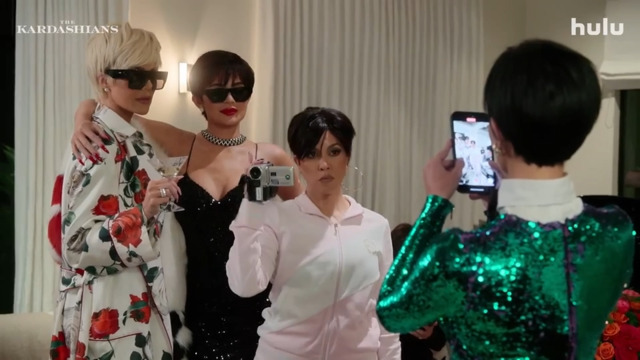 Watch the trailer for The Kardashians season 3
Kim's 'Kendall's Starting Five' shirt pokes fun at Kendall's ex NBA boyfriends and rumoured love interests. Here's where to buy it.
The first official trailer for The Kardashians season 3 dropped yesterday (April 27) and Kim Kardashian was spotted wearing a pretty iconic t-shirt poking fun at Kendall Jenner's love life.
Look, it's no secret that Kendall loves a basketball player. The model has been linked to several NBA stars over the years, and has recently been in relationships with Devin Booker and Ben Simmons.
For a few years now, the internet has often made reference to 'Kendall Jenner's Starting Five' – a joke that suggests she's dated/been linked to enough basketball players that she could form her own starting lineup.
Thankfully, it seems like the family (and hopefully Kendall herself) has seen the funny side of the whole thing... Fans spotted Kim wearing a 'Kendall Starting Five' t-shirt, featuring a picture of Kendall surrounded by her NBA 'ex-boyfriends', in the new trailer.
Who are Kendall's basketball ex-boyfriends?
All the faces on Kim's tee have been blurred for the sake of the show, but you can still make out who they based on their team jerseys. The t-shirt design includes some of the players that Kendall dated, and some who have been linked to her over the years:
Jordan Clarkson, who Kendall reportedly dated back in 2016.
Blake Griffin, who Kendall was linked to in 2017.
Ben Simmons, who Kendall dated back in 2019.
Kyle Kuzma, who was linked to Kendall in 2019.
Devin Booker, who Kendall dated for around two years until they broke up in late 2022.
Here's where to buy Kim Kardashian's 'Kendall Starting Five' t-shirt
The clip of Kim wearing the tee in the trailer was only shown for a brief moment but it was enough for fans to be able to figure out what it said and where to buy it from.
The shirt is available to buy in several places online, including Etsy.
It's unclear which episode Kim will appear wearing the t-shirt but when it drops, you can probably expect to see a lot of people trying to cop their own version. A video has already gone viral on TikTok pointing out Kim's shirt, and people are living for it.
One fan wrote: "Marketing genius! They know this would get people talking about it and googling the Kardashians season 3 trailer." Another added: "Kendall needs to wear one for Kim but idk if there's enough room lol." Several others said, "Kim is the funniest Kardashian," and the whole thing was "icon behaviour".
We'll have to wait and see how the rest of the family – including Kendall – react to Kim's t-shirt when the new season drops on Hulu on May 25th.
Read more Kardashian news here:
FLO Spill Their Secrets In 'The Tower Of Truth' | PopBuzz Meets