Kris Jenner is so rich she forgot she owned a property in Beverly Hills
23 September 2022, 17:14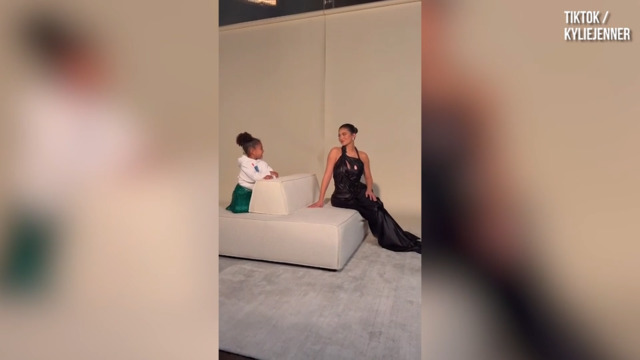 Behind the scenes of Kylie Jenner's shoot for The Kardashians season 2
"I kind of forgot it was there. That sounds ridiculous, doesn't it?"
Kris Jenner forgot that she owns a condo in Beverly Hills, because of course.
In a story that'll remind you of that iconic photo of the momager dressed in her pyjamas while holding a suitcase that says "rich as f—k" on it, Kris revealed that she actually forgot that she owns… multiple… houses.
In the season two premiere of The Kardashians which aired on September 22nd, Kris admitted to her daughter Khloé Kardashian that she "forgot [the condo] was there". "This is a cute little place if I must say so myself," she says to Khloé.
READ MORE: Kim Kardashian is being called out for not sharing enough about her life on The Kardashians
The Good American owner asked her mum when the last time she visited the condo was, and Kris explained that the spacious home acts as her Christmas "gift wrapping station" and "Santa's workshop."
"I kind of forgot it was there," Jenner said with a laugh during a confessional. "That sounds ridiculous, doesn't it?"
The mum of six added that she originally purchased the Beverly Hills pad so that she could be close to her own mum Mary Jo "MJ" Campbell, and cousin Cici Bussey, who also own property in the area.
"I can't wait to be wealthy enough I forget I have properties somewhere," Khloé chimed, adding in a mock British accent, "Oh, I have a condo in Beverly Hills! I forgot about that!"
"I forgot about it!" Kris replied in her own mock British accent.
READ MORE: Khloé Kardashian is being roasted for thinking she's Gen Z in new TikTok video
The internet was, of course, in uproar at the whole thing which is actually quite iconic behaviour and so on brand for Kris.
"Kris Jenner forgetting she owned a whole ass Beverly Hills condo is the wealth I would like to obtain. It's also the fact she only uses it to wrap Christmas gifts and Christmas gifts only," one fan tweeted.
"Kris jenner forgetting she has a condo? i wanna be that kind of rich [sic]," wrote another. "Kris Jenner having a spare condo in the middle of LA, with a fridge full of bottles of champagne. A condo she even forgot she had >>>>>>>>>>>," said a third.
A fourth wrote: "Kris just completely forgetting she owns a condo somewhere is the most unrelatable thing i've ever seen. good for her tho, icon! #TheKardashians[sic]"
Forgetting you own a home? Must be nice!
House Of The Dragon Cast vs. 'The Most Impossible Game of Thrones Quiz' | PopBuzz Meets