Kylie Jenner's Bratz dolls are being called out over their skin tone
3 August 2023, 16:54 | Updated: 3 August 2023, 17:20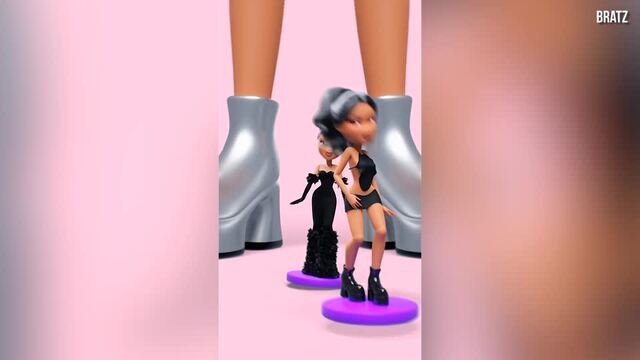 Kylie Jenner unveils new Bratz doll collection
Bratz have been accused of making their Kylie Jenner dolls appear with a darker skin tone.
Bratz have launched a brand new line of Kylie Jenner dolls and they're now coming under fire over the skin tone of the dolls.
Yesterday (Aug 2), Bratz revealed that they had collaborated with Kylie Jenner on their first ever celebrity collection of Bratz dolls. Each doll is Kylie Jenner in Bratz form. There are six different Kylie Bratz dolls to choose from all of which are based on some of Kylie's most iconic looks. You can also purchase accessories for each look include a Kylie x Bratz dog.
After unveiling how each doll looks, Bratz and Kylie are being called out for making Kylie's skin tone darker than it really is on the doll.
READ MORE: Kylie Jenner says she regrets getting a boob job at 19 now because of Stormi
Reacting to an official image of the six Kylie x Bratz dolls on Twitter, one person tweeted: "Now this skin color —". The tweet has since been liked over 130,000 times with many people questioning why Bratz didn't make the dolls Kylie's actual skin tone.
Another person wrote: "WHY IS SHE BROWN?!?! STOP PLAYING. LIKE BE DEAD ASS SERIOUS PLEASE." Someone also added: "loooool now the skin color on these dolls are so unserious."
Some people have also been accusing Bratz of Blackfishing with the dolls. Blackfishing is when someone who isn't Black uses hairstyling and makeup to appear Black.
As it stands, Bratz and Kylie are yet to address the backlash surrounding the collection.
This isn't the first time that Kylie has been at the centre of a Blackfishing controversy. In the past Kylie, who is white, has been criticised for wearing makeup that's darker than her skin tone and accused of attempting to appear Black.
Kylie's sister Kim Kardashian has also faced similar criticism.
The Witcher Cast Interview Each Other | PopBuzz Meets