Kylie Jenner is accused of refusing to pay workers who make her clothing lines
23 June 2020, 16:01 | Updated: 6 October 2020, 10:40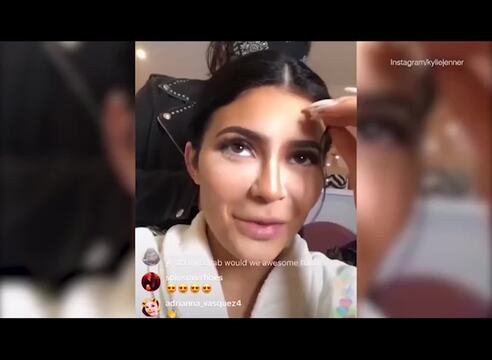 Kylie Jenner reveals the traditional name she nearly picked for Stormi
Global Brand Group, who are in charge of the clothing lines of Kylie Jenner and Cardi B, are reportedly refusing to pay their Bangladeshi factory workers - and fans are mad that the celebrities aren't speaking up about it.
Multi-millionaires Kylie Jenner and Cardi B are coming under fire, after it's been revealed that the companies behind their clothing lines are refusing to pay factory works, leaving thousands around the world "starving".
Both Global Brand Group who represent Kylie, and FashionNova, whom 27-year-old rapper Cardi has just launched a collection with, have cancelled orders due to the ongoing pandemic, and have cut workers in both Bangladesh and Los Angeles off with no pay, and no promise of when they'll return. The Los Angeles factory in question has so far impacted up to 50,000 women who are also ineligible for government assistance due to their immigration status.
But of course, being among the super rich, you'd think these women would take some accountability and help out where necessary, right? Well, it turns out you'd be wrong.
READ MORE: A YouTuber recreated Kylie Jenner's Instagram photos and they look like twins
In fact, fans are getting pretty damn angry, because it looks like any comments regarding the situation left on the youngest Kardashian's social media posts, are being deleted altogether.
But people aren't standing for it any longer...
If anyone is trying to justify Billionaire Kylie Jenner not paying her clothing line workers in Bangladesh then they need to jump in a big hole and never come out

— Nabzz ✪ (@Nabzzino) June 22, 2020
Kylie Jenner IS REFUSING TO PAY BANGLADESHI FACTORY WORKERS who are making her clothing line‼️‼️ wtf why is no one talking about this??? pic.twitter.com/dloDFZ09HY

— Ishan 🇧🇩 (@ishanali101) June 22, 2020
Kylie Jenner is the perfect example of performative activism. Posting about BLM on her social media just to appease her fans. But behind the scenes her companies are unwilling to pay poor (mostly female) garment workers in Bangladesh. Make it make sense

— 🐉💫✨ (@shoecheetah) June 23, 2020
@KylieJenner so you out there chillin in one of your mansions while people in bangladesh not getting paid for their work ?

— worldsmofugginnightmare (@inapeace) June 23, 2020
Kylie Jenner refusing to pay her workers in Bangladesh just makes me question how someone can be granted riches/finer things their entire life and still be stingy 😳

— jayda 🔅 (@jcara_) June 23, 2020
The #PayUp campaign exposing multi-million dollar brands has created a petition that already has over 78,000 signatures demanding that they pay workers fairly and give workers contracts that protect them from being exploited. Both celebrities are yet to comment on the controversy.
However, Global Brand Group, who deal with Kylie, have been quick to jump to their own defence, after it was found that workers weren't being paid for garments that had already been made in February and March: "Given the unpredictability of the situation, our retail partners have cancelled orders, and existing inventory and product in production may have no sell-through," says CEO Rick Darling.
"Consequently, we have no choice but to make the difficult decision to cancel all S/S 2020 orders from all suppliers (without liability)."
This isn't the first time the likes of FashionNova have been called out, but with Cardi B, who is worth a healthy $24 million, and Kylie worth $900 million, despite having her billionaire status retracted from her, most of us collectively agree that there's no excuse for this to be a debate.
Even with coronavirus rife, there's no doubt that this situation has massively affected women of colour in particular, who were already working 12 hour days in dangerous conditions to keep their families fed.
And during a time when the likes of the A-list are performatively posting about Black Lives Matter, there's no doubt that it's time they put their money where their mouth is.