Kylie Jenner called out for "copying" Trixie Mattel's makeup brand with new Kylie Cosmetics collection
28 January 2022, 11:52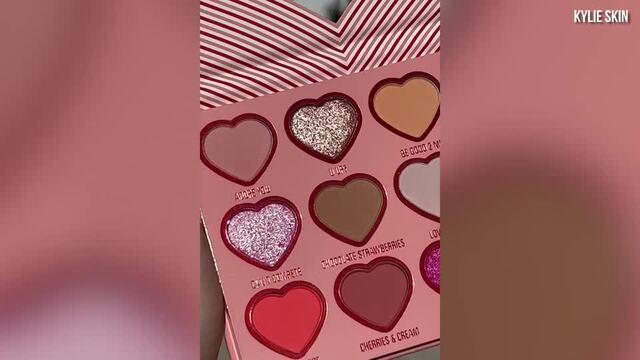 Kylie Jenner launches Kylie Cosmetics: The Valentine Collection
"What we're not gonna do is let Kylie Jenner RIP OFF Trixie Mattel's makeup."
Kylie Jenner has been accused of "copying" Trixie Mattel's makeup line with her new Kylie Cosmetics collection.
On Wednesday (Jan 26), Kylie gave a preview of her new love-themed Kylie Cosmetics makeup products, named The Valentine Collection, ahead of its official launch on Feb 3. The collection includes two matte lip kits⁠, a lip gloss set⁠, a lip balm set, a pressed powder palette⁠, blush sticks⁠, a highlighter and false lashes⁠.
However, shortly after revealing the products, fans started to notice the similarities between Kylie's new products and Trixie Mattel's makeup collection.
READ MORE: Kylie Jenner's swimwear line dragged for being 'poor quality' by a number of TikTokers
The Drag Race star started her own beauty brand, Trixie Cosmetics, back in 2019, complete with her signature kitsch aesthetic. From the font to the heart-shaped packaging, people thought the products looked exactly the same. Even Trixie herself responded in a hilarious video, where she looks visibly shocked by the similarities.
People have even been urging Trixie to sue Kylie Cosmetics over the new collection.
Not Kylie cosmetics copying Trixie Mattel's packaging for her valentines launch…

— ᴍᴀᴛᴛʏ (@cashmeresin) January 27, 2022
kylie jenner its on fucking sight you think the gays wouldn't clock your trixie mattel knock off packaging

— sinta (@sintaspeaks) January 27, 2022
The fact that Kylie Jenner cosmetics is ripping off trixie Mattel's line?? Obscene. Jail.

— 𝚖𝚊𝚝𝚝𝚒𝚎 𝚍𝚊𝚍𝚍𝚢 (@budweiserbreath) January 27, 2022
kylie is really out here copying trixie mattel's packaging,,, she's never had an original thought in her life

— john fookin' shelby (@annaerams) January 27, 2022
Kylie hasn't addressed the similarities but this hasn't been the first time one of her brands has left consumers a little disappointed. In 2021, Kylie Jenner's new swimsuit brand Kylie Swim was criticised for being poor quality in a number of reviews on TikTok.
Do you see the similarities between Kylie Cosmetics and Trixie Cosmetics? Tweet us @popbuzz and let us know!
Too Hot To Handle Season 3 Cast Reveal Which Rules They Broke Without Being Caught By Lana